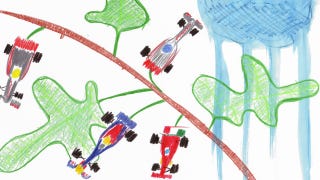 There really is nothing like the glory of changing weather conditions for sprinkling fairy dust on a Grand Prix. A shot of rain on a cool day was enough to turn the tedium of the Hungaroring into a sparkling race to remember. It also didn't hurt to have the sultan of capricious weather on the grid, hungry for a win. …
It always rains in Malaysia. It didn't rain in Malaysia yesterday. Never underequipped when it comes to show biz, Formula One bridged the precipitation gap with a flying Russian (above), a jinxed Brit, and an old rivalry rekindled. A fun race—for second place. Warning: spoilers.
Barely eight months after Honda called it quits, another manufacturer of white cars is out of Formula One as BMW throws in the towel at the end of this season. What will this mean for the all-conquering Brawn GP?
You can tell it's getting into riding season now as BMW Motorrad is picking up steam in its promo activities. They're dropping BMW Sauber F1 Team driver Nick Heidfeld onto a spankin' new BMW HP2 Megamoto for some cross corporate shilling. We've been enjoying the twin delights of two-wheeled transport and 50+ MPG fuel…
BMW thought it would be a good idea to bring out the new Sauber F1 car for a bit of fun at the BMW plant in Munich. Why not halt ze making of ze Bimmers for a few minutes and give the 5,000 or so workers a little entertainment? Well, we can think of a reason. BMW's driver Nick Heidfeld zooms down the strasse and does…
For the first time in over three decades a Formula One car has lapped the N rburgring circuit. Driver Nick Heidfeld pummled the BMW Sauber F1 car around the legendary course, managing 170 mph through the D ttinger H he straightaway. Heidfeld said he really wanted to empty the tank, but cautious owners, hard tires,…