BMW has been active in Formula One since 1982, when they supplied an absolutely bollocks engine to Bernie Ecclestone's Brabham team. Now that they're calling it quits, let's take a look back at their 27 years in the sport.
Nelson Piquet drives the Brabham BT52
Fire will be a recurring pattern of this gallery. The flames pictured here belch forth from the Brabham BT52, a Gordon Murray-designed, Nelson Piquet-driven car which took the 1983 world championship. It was powered by the BMW M10 engine, a lovely exercice in engineering insanity.
BMW M10 Engine
Probably no other engine had a 26-year career during which it progressed from 75 HP in the BMW 1500 Neue Klasse of 1961 to 1500 HP in the Brabham BT52 Formula One race car. The basis of this twentyfold increase in power was an incredible little 1.5-liter Baron Alex von Falkenhausen design, turbocharged to the ionosphere for F1.
G/O Media may get a commission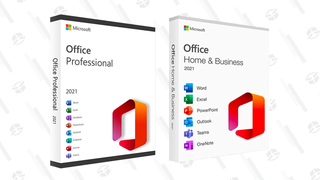 89% off
Microsoft Office Professional 2021 Lifetime License
Legend has it that BMW's motorsports engineers chose for their F1 units engine blocks which had already accumulated 60,000+ miles on them—and that they urinated on them in the factory.
Photo Credit: BMW Historisches Archiv
Nelson Piquet and Gordon Murray
Piquet was the man who drove the BMW-powered Brabham racers. Gordon Murray? He designed them. After Formula One, he would go on to create the sublime BMW-powered McLaren F1, which was the last road car to win the 24 Hours of Le Mans—in 1995.
Photo Credit: joosten
More fire! This is the Brabham BMW of 1987 at Silverstone, driven by unlucky Andrea de Cesaris, who started in 208 Formula One grands prix without a single win. The fire you see was the result of a broken fuel line, which ended de Cesaris's race.
Photo Credit: Chris Cole/Allsport
Fire! Fire! Fire!
Before we ban Beavis from Jalopnik's editorial systems, one more photo of a flame-happy Brabham. Most likely driven by Nelson Piquet.
The Brabham BT52 from above
The arrow shape of Nelson Piquet's 1983 championship winner was dictated by the sudden banning of ground effects at the end of the 1982 season.
Because regulations for 1983 specified flat underbodies, the wide sidepods of ground effects cars suddenly became wings and had to be sheared off.
Gordon Murray was the most efficient shearer of them all: he designed the arrow-shaped BT52 over a scarce three months.
Suitcase signed by Piquet and Murray
For 1984, Gordon Murray developed the BT52 into the BT53. It was no worse a design, but BMW's mad turbocharged M10's couldn't reliably finish races. Piquet won only two races in the season and had to retire from an incredible 9 of 16 total.
Photo Credit: joosten
Nelson Piquet leads Ayrton Senna in the 1984 Dallas Grand Prix
Here's the Brabham BT53 in action in Dallas. Both Piquet and Senna would retire from the race, which was won by Keke Rosberg.
Photo Credit: twm1340/Flickr
Jacques Villeneuve at the 2006 French Grand Prix
BMW was out of Formula One for many years, only to acquire the Sauber team of Switzerland and return as a factory outfit. Over their four years in F1, they have experimented with a number of weird and wonderful aerodynamics elements, including the Twin Towers seen here, which were designed to flick air to the car's rear.
Nick Heidfeld and Jacques Villeneuve drove the cars to 8th and 11th place, respectively. The towers were banned after the race as officials had postulated it would interfere with the drivers' vision.
Photo Credit: Paul Gilham/Getty Images
Robert Kubica's crash at the 2007 Canadian Grand Prix
In their second year in F1, BMW would be involved in perhaps the most dramatic crash in modern times. On lap 26, Robert Kubica's car clipped Jarno Trulli's Toyota and became airborne at 150 MPH. Most of the car disintegrated to a fine powder of carbon fiber as it tumbled down the track, subjecting the Pole to 75 g's of deceleration but saving his life.
BMW's other driver Nick Heidfeld finished second in the race which marked Lewis Hamilton's first F1 win.
Photo Credit: Paul Gilham/Getty Images
Another view of Robert Kubica's 2007 crash
This is how Kubica's BMW came to rest after his big crash. You can see that he is still in the car, with his feet poking out. In a testament to the gigantic strength of the carbon fiber monocoque, he suffered nothing worse than a sprained ankle.
Photo Credit: DAVID BOILY/AFP/Getty Images
Robert Kubica wins the 2008 Canadian Grand Prix
What a way to return to the scene of his 150 MPH crash a year later: this is BMW team principal Mario Theissen hugging Robert Kubica after he took his and BMW's first grand prix win at the 2008 Canadian Grand Prix.
Photo Credit: Mark Thompson/Getty Images
BMW team principal Mario Theissen
Theissen is seen here celebrating BMW's only grand prix win at the 2008 Canadian Grand Prix. Perhaps the photo's slightly pornographic allusions also go to show how right the late and great LJK Setright was when he called the spraying of champagne the "vulgarian display of disrespect for this princely drink" in his 2002 book Drive On!
Photo Credit: Paul Gilham/Getty Images
Nick Heidfeld at St. Moritz, Switzerland
BMW Sauber has shown a curious taste for Formula One stunts in 2007. They were all performed by Nick Heidfeld, seen here on the frozen surface of Lake St. Moritz, Switzerland, on February 4, 2007.
Photo Credit: Scott Barbour/Getty Images
Nick Heidfeld drives his BMW F1 car on the Nürburgring Nordschleife
No Formula One car had set foot on the old Nordschleife since Niki Lauda's infernal 1976 crash at Bergwerk corner. After 31 years, Heidfeld returned to the scene of countless grands prix in his 2007 racing car to run three laps. In a raised car on the bumpy track, not going flat out, he managed a time of 8:34.
More fire! More fire!
This has become the defining image of BMW in what has turned out to be their last season in Formula One. The man in the car is Robert Kubica and the picture was taken during qualifying at this year's Bahrain Grand Prix, which Jenson Button won.
Photo Credit: BERTRAND GUAY/AFP/Getty Images