Whispers of team orders clouds a brainy race in Barcelona, where most of the action happened in the pits and in the tactical computers. Warning: spoilers below.
Spanish Grands Prix tend to be boring affairs. Held on the Circuit de Catalunya, more a motorcycle and testing track than one for spectacular racing, most GP's here are rather dull. This year's event, which saw Jenson Button make it four wins out of five races, was far from dull, but most of the action happened not on the track, but in the pits—and in the impenetrable, alien brain of Ross Brawn.
It started off well enough. Button, having grabbed pole on Saturday in the last seconds of qualifying, was passed on the way to Turn One by a resurgent Barrichello from third place. Then followed a mild accident, televisable but not particularly exciting, which decimated the rear of the field (both Toro Rossos, Jarno Trulli of Toyota, Adrian Sutil of Force India and Heikki Kovalainen of McLaren were out) and resulted in an safety car period which would prove decisive.
G/O Media may get a commission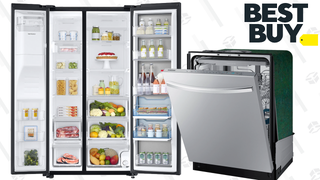 Up to 50% off
Best Buy - Samsung Major Appliance Sale
Unlike the rest of the field on their two stop strategies, the Brawns of Button and Barrichello were on three stops: three quick nips of fuel followed by scorching laps in a permanently light car. Following the safety car period, however, championship leader Button was put on two stops and he made the most of it, putting in blistering laps at the head of the field. Barrichello meanwhile, in a lighter car, lost precious seconds after his second pitstop, ultimately leading to his finishing by 13 seconds behind Button.
Whatever happened in those decisive laps—tire trouble, slow driving, team orders—the veteran Brazilian was very unhappy. This was to be his first win since the 2004 Chinese Grand Prix in what may be his last season in Formula One. A hugely selfless man, he played second fiddle to Michael Schumacher in Ferrari's dominant years. Years when Ferrari's strategy was determined by no other than Ross Brawn, the man who runs his current team.
Everyone at Brawn GP has pointed out immediately that they have no team orders in place—as evidenced, for instance, by Barrichello's move on Button leading into Turn One—but the mind wonders. While Barrichello is a solid second in a championship with 12 more races to go and while he can be just as quick as Button, he has not won a single race yet in a clearly dominant car. Also, he is nine years Button's senior, in a sport which favors the ultra-quick reflexes of the young.
Speaking of the young: 21-year-old Sebastian Vettel, driving the marvelous, Adrian Newey-designed Red Bull, had yet another frustrating race, stuck behind the Ferrari of Felipe Massa, whom he could not pass on the narrow circuit as the Brazilian deployed his speed-boosting Kers device in every corner. But make no mistake: Vettel is scramjet quick, as he has already shown in Shanghai. And once he finds himself in a position where he can really stretch his legs, the Brawns will have a young German in a dark blue car rapidly filling their rearview mirrors.
The 2009 Spanish Grand Prix was won by Jenson Button, followed by Rubens Barrichello and Mark Webber of Red Bull. Rounding out the points were Sebastian Vettel (Red Bull), Fernando Alonso (Renault), Felipe Massa (Ferrari), Nick Heidfeld (BMW) and Nico Rosberg (Williams). Jenson Button leads the championship with 41 points, followed by teammate Barrichello with 27 and Red Bull's Vettel by 23. The next race will be held in Monaco on May 24.
Photo Credit: Paul Gilham/Getty Images, GUILLAUME BAPTISTE/AFP/Getty Images, Manu Fernandez/AFP/Getty Images, FRED DUFOUR/AFP/Getty Images