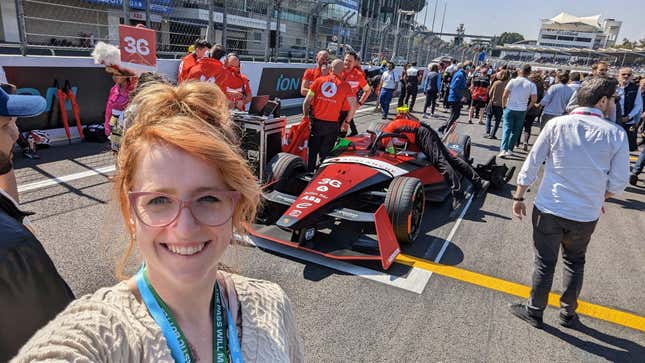 The concept of the all-electric open-wheel series that would become Formula E was first announced when I was just discovering my intense love of all things motorsport, and I decided that I was all in. The first round of drivers included former Formula 1 drivers I'd loved and legacy names I wanted to know more about: Nico Prost, Bruno Senna, Nick Heidfeld, Jerome D'Ambrosio. Little did I know that my decision to follow this brand-new series would become a love affair that has lasted a decade.
Grand Prix is The Best Racing Film That No One Talks About
In FE's first year, it was very much a rough-and-tumble affair, but there was something beautiful about the fact that no one quite seemed to know what they were doing. It was so appealing in contrast to, say, the well-known expectations of something like F1. I'll never forget that bleary-eyed first race in Beijing, the shock of Heidfeld and Prost's collision and Lucas di Grassi's first win. I'll never forget the absolute mess that was the Miami ePrix, where the track wasn't actually, y'know, finished — or the constant calendar changes that took place. I'll never forget showing up to Long Beach to be one of just a few folks who decided to see what this electric series was all about — and one of even fewer people who actually traveled just to be a fan.
The 2015 Long Beach ePrix was only the second motorsport event I'd ever attended, with the first being the prior year's F1 U.S. Grand Prix — and to say that ePrix changed my brain chemistry would be a massive understatement. I attended with my friend Remy; as two of the only people at that race who were deeply excited about the series, we were also the only ones who, say, responded to a Mahindra tweet offering paddock and suite passes — which meant we were two of the only fans who actually showed up in the paddock. I painted a flag for Jean-Eric Vergne and Remy painted one for Scott Speed. I waited in the (admittedly small) autograph line to get a signature from every single driver who started that race. I got selfies with just about everyone as they walked through the paddock, too — one of the only people in the garage area who wasn't there to work. I got to tour the Amlin Aguri garage, take photos with both drivers and the trophy the team had won earlier in the year. I walked with purpose and infiltrated the adorable little podium to cheer on Vergne's second place. We lingered in the paddock watching the slew of quaint temporary garages disappear.
Remy and I had a run on the place, and even though that first season paddock was the motorsport equivalent of a kindergarten playground, I was infatuated. Yes, I was a massive fangirl who loved having access to all the drivers I'd been watching all year long — but there was something more. I wanted to be a part of it. I wasn't exactly gunning for a job traveling with the series, but I wanted to embed with it whenever and wherever I could.
No, my aspirations weren't limited to Formula E — but Formula E was the series that showed me how to exist in the paddock, and it was the series that showed me how much I loved being a fly on the wall, watching the hustle and bustle.
When I showed up to the Long Beach ePrix the following year, in 2016, it was with my very first media credentials. No, I wasn't quite a journalist — not quite yet. I was a mere 19 years old, and I was a dedicated administrator of the official Formula E fan page on Facebook. (Yes, that was enough to get a credential back then; it was a whole different world before official FIA status.) I had even more access — and no one was exactly watching when I decided to crack open my own photo hole in the fencing, a media center sweet tea in hand.
I ended up in New York City for the first year there. I headed up north to the only ePrix in Montreal, where the race took place a mere block from the hostel my friends and I were staying at.
After 2017, I didn't head back to another race until I was invited to visit Mexico City for the 2022 ePrix — but I never exactly stopped being in love with the series. I just stopped being able to travel thanks to work and grad school and the relative nearness of IndyCar and living in nine places at once and attempting the whole "being a good partner" thing. That year was the first race I attended in the Gen2 era, followed by the New York City doubleheader. And then this last weekend was my first taste of Gen3.
It is, truly, stunning how much has changed in Formula E over the past nine years. That first year in Long Beach, I was part of team hospitality, which mainly just consisted of a view of the race from the pit lane, where I had an overhead view of the hilarious season one car swaps (even though, back then, it never really felt that silly). If you'd transported me ahead in time, I don't think I would have recognized the sleek series I saw in Mexico City this weekend.
So much of Gen3 would have felt unthinkable back in the 2014-15 season. Battery technology has progressed to the point that a car can last a race and we can even consider mid-race charging manipulations to amp up an event's excitement. FE is racing at Formula 1 venues and selling out crowds. The cars look sleek, a massive evolution when compared to the boxy, awkward machines that were first introduced to the world. There's a gloss to everything, from requesting driver interviews to sitting in the media center, that just didn't exist before. There's legitimacy — and that's beautiful to see.
It's easy to be hard on FE. The series is notorious for making massive leaps of faith and then stumbling back when reality sets in — but we tend to forget the recency of the series and demand it give us the consistency of a series exponentially more established. After F1 was established, the series revered to Formula 2 specs when it became obvious that manufacturers weren't ready to commit to building a whole car for a new sport. The fractures of American open-wheel have consistently prevented it from blossoming into the full-fledged technology playground it should have been. NASCAR has spent years manufacturing interest when it became obvious that racing alone wasn't enough to draw a crowd.
FE's setbacks are to be expected from a sport that has sought to carve out an entirely new niche in the relatively staid world of motorsport. It was never going to be perfect, and some efforts weren't always going to work — but the fact that we've been able to watch something evolve from the ground up is a rare and beautiful thing. Watching it happen has helped me define what I want from my career as a motorsport journalist, and it has been a pleasure to watch this sport grow into its own.