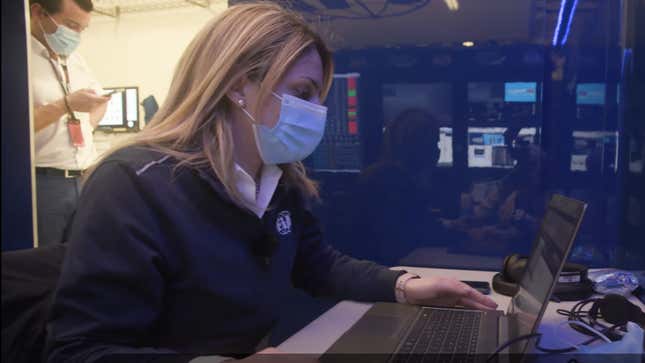 Alessandra Ciliberti laughs when I ask her about the recent challenges of her job. She's serving as the Gen3 Technical Project Leader at the FIA, helping to guide Formula E into its newest incarnation of lighter, faster, and more powerful cars — and when I sit down with her, it's nine in the morning on Friday the 13th, which also happens to mark the first on-track session of the 2023 FE race season. Ciliberti laughs, and she says two words that sum it all up: "A lot."
Grand Prix is The Best Racing Film That No One Talks About
To say that Formula E's rollout of Gen3 has been fraught might be an understatement. As Ciliberti explains, she and her fellow team members at the FIA were looking to create massive changes across the board to keep pushing EV technology. The Gen3 cars are lighter, smaller, and more powerful than their Gen2 predecessors, but making changes in one of those arenas necessitates compromise in the other two.
"We started by saying that we need a car that is adapted to street circuits," Ciliberti says, referring to FE's one-of-a-kind street-only calendar. "We pushed in a lot of directions, but trade-offs need to be made."
The resulting car that hit the track is a massive departure from what came before: Gen3's motor boasts the ability to run at 350 kW, up from 250 kW in Gen2. Gen3 cars are roughly 120 pounds lighter, and its triangular shape is unlike anything seen in open-wheel racing before. Formula E says these new cars can hit 200 mph, while the previous iteration was limited to 173. And those are only a handful of evolutions — the ones that will be most obvious to longtime fans seeing these new cars hit familiar tracks for the first time.
"This is the first single-seater car to have a front powertrain. This allows us to have up to 600 kW in regeneration compared to 250 in Gen2; almost 50 percent of the energy used during the race will come from regeneration. That's one of the key technological features of this car," Ciliberti added. "This car — the battery — it's all bespoke."
Alessandra Ciliberti's passion for motorsport has been lifelong. Paired with an interest in physics, it led her to pursue a degree in mechanical engineering and then make her way into the motorsport world. Her resumé includes a research and development internship at the F1 team formerly known as Scuderia Toro Rosso, followed by a stint as a research engineer at BMW. Within the FIA, she has assisted in rally and circuit research, but Formula E marks a significant departure from traditional combustion-based motorsport. Even her stints in hydrogen research with the FIA depend on combustion.
"What I studied was all internal combustion," she said. "But this energy roadmap that OEMs are having to adapt, I wanted to learn new things to shape the future of the automotive industry."
Motorsport is an opportunity to push developmental barriers, and Formula E served as a unique form of EV development for the FIA — hence Ciliberti's interest. When I asked what was most challenging about EVs compared to combustion engines, though, I was surprised by the answer: software.
"A lot of the technology depends on software," she said. "There's a lot of software development that allows all manufacturers and teams to optimize electric hardware for their road cars. That race-to-road transfer is key for the FIA."
As most race fans are aware, though, this Gen3 car has had teething problems thanks in part to the ambitious nature of the project. For example, in an interview with Jalopnik, FE CEO Jamie Reigle noted that certain elements, like pit stops that will provide a boost in power, have been delayed; introducing so many moving parts at the same time would, after all, be a challenge — but Attack Charge is still being trialed, and it is still intended to make its debut. Further, some teams don't feel prepared with backup parts, so a pre-race crash could lead to a withdrawal of a driver. That, though, was also true for certain Formula 1 teams at the start of the 2022 season, which heralded its own series of regulation changes.
While Ciliberti recognizes that those developmental challenges mean the car that hit the track for the Mexico ePrix wouldn't exactly line up with Formula E's ultimate vision, she was also undeterred.
"We're still focusing on securing the project the way we had it in mind. There will be evolutions," she admitted, "but the goal is really for manufacturers to use this car with cutting-edge technologies to transfer knowledge to their road cars." That's something marques like Maserati, McLaren, or Nissan will be able to do regardless of the fact that the Gen3 car hitting the track may not necessarily be the exact one engineers had in mind.
I ended the interview by asking Ciliberti what her goals were for the season. Again, her answer could be summed up in a mere two words: reliability and performance. With her expertise at the helm, Formula E's Gen3 project is assured of its success on those fronts.