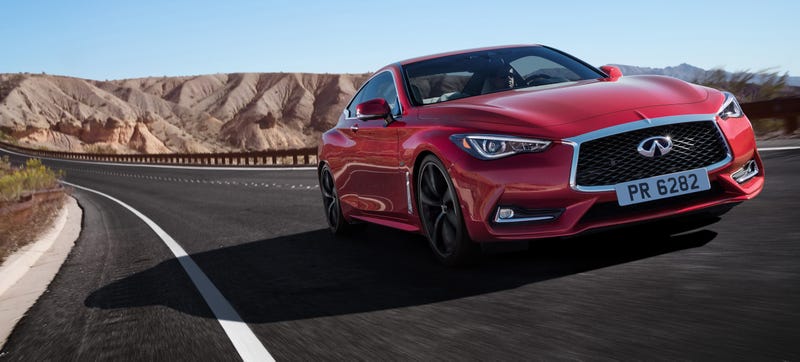 It's sleek, it's sculpted and it absolutely fulfills our favorite requirement in a car: sporty. Now it finally has a price. Starting in September, the new Infiniti Q60s will begin showing up in dealers around this country and toting a new list of prices to match.
It's awfully hard not to like the Infiniti Q60 Concept. It's quite likely the sexiest-looking car the brand has ever produced, and while it's still a concept at this point, the production version should be very similar. Now it seems it will have power as well as beauty.
Infiniti proudly pointed out at the debut of the Infiniti Q60 that its predecessor the G35 Coupe was named Motor Trend's COTY under the headline "The King Is Dead." As Omar said, "If you come at the king, you best not miss." History shows they missed.
A lot of people loved the Infiniti G35/G37/Q60 coupe, but it always struck me as kind of a poser car for $30,000 millionaires whose idea of fun was slamming back Jägerbombs and grinding on women they referred to as "slampieces" in some horrid West Sixth Street bar. (Google it.) But the concept that likely previews the…
Smaller then the Q80 Concept and less radical than their digital sports car for Gran Turismo 6, the Q60 will debut in the metal at the Detroit Motor Show to keep us teasing a bit further. Infiniti G37 Coupe drivers, you have something new and exciting to hope for.
In a bid to confuse those of us who cover cars, and maybe those who buy them, Infinti is going back to their weird alphanumeric system that means nothing and makes no sense. All luxury crossovers and SUVs will be named QX, which means the EX35 is now the QX50, the Infiniti JX is now the QX60, the smaller FX is now the…