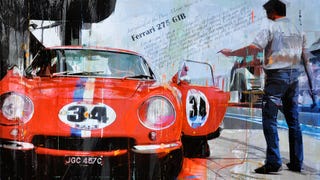 Prints and paint, but no photoshop. The founder of the excellent formfreu.de, Markus Haub, transforms vintage racing pictures into the coolest car art we've seen all year.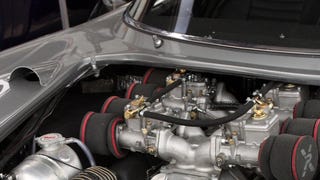 Thirty-one years after Reza Pahlavi was ousted in the Iranian Revolution, most of his epic car collection still gathers dust in a warehouse-like museum 30 miles from Tehran. Here's a very recent sneak peek at the madness.
Springing forth from old Jalopnik posts and the icy wastes of Canada is a mid-engined hyper-super-mega car with an eye-violating SEMA paintjob and a Corvette V8 engine.
You are engineer superstar Giotto Bizzarrini. You built the glorious, Shelby-teasing Ferrari 250 GTO. But you feud with Enzo (shocking) and are then wooed by Feruccio Lamborghini to develop an Enzo beater giving Lambo (and the world) the 350 GTV concept along with its glorious 3.5-Liter V12. You then go to work for…
A new Swedish supercar? Yes, please. It's called the Quercianella, after the hometown of famed Italian car and engine builder Giotto Bizzarrini, whose work provided inspiration for the small, lightweight sled. Founder Clas M ller started with a prototype, the P1, which led to the production model set to be introduced…
If we had an eBay Catch of the Day feature, this Bizzarrini 1300 Barchetta would be the first on it. Not because it's a good deal at a currently-below-reserve $50,000 (who knows?), but because its cool and rare (allegedly one of three), and because we say so. The Bizz 1300 shares a 1.3-liter, high-revving buzzbox…