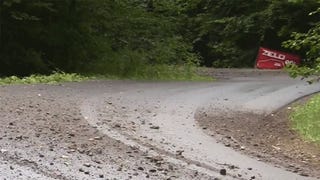 In January, we started a search for the most unbelievable saves in the car world. Near-misses, near-spins, and heroic recoveries were all fair game. After twelve months, these are the eight greatest, craziest saves of 2012.
Our searches of LiveLeak, YouTube, and sometimes WorldStarHipHop have given us what we believe to be a fairly authoritative list of the greatest saves of the year. Since any and every road incident is recorded thanks to the massive proliferation of cheap dash cams, we feel like if there was a great catch, we'd have seen it.
Still, there's probably some Russian Dash Cam video that we forgot about. If you think we did indeed miss something, post the YouTube link in Kinja below.
Now, in chronological order, are the greatest saves of the year. Which one do you think is the craziest?
Photo Credit: Oes Records
Rally Audi Dodges Spectators, Logs, Cliff, Forest
As early as January 6, we had a Save of the Year contender. This Audi S2 came into a hairpin at Austria's Jänner-Rallye backwards and managed to avoid hitting not just a number of spectators, but some serious damage to the car itself.