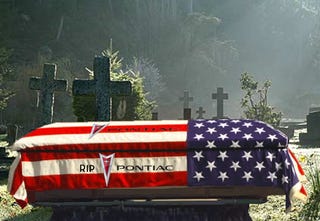 Welcome, friends. We're here today to bid farewell to GM's Pontiac. Once a re-badged middle ground between Chevy and Buick, it attempted to build excitement. Now, it is gone in a blaze of platform prostitution.
The Beginning
Pontiac started life as part of the General's mid-20s "companion" program, which the once-massive automaker implemented to create a sensible cost difference between their cars. Pontiac models were to be produced by then Oakland Motor Car Company, a quality six-cylinder line of cars, and designed to be placed between Chevrolet and Buick. Pontiac cars sold well but, when the market crashed, the companion program was discontinued, Oakland was folded and GM severely cut back on their offerings.
What helped Pontiac survive, beyond its popularity, was the cheap production cost attained by combining components with Chevrolet. When GM was forced to reduce itself to three divisions, Pontiac was rolled into Buick and Oldsmobile with dealers forced to sell all three if they were going to sell one. This would save the brands but set a precedent partially to blame for their inevitable downfalls.
As a brand, Pontiac followed the movement of the market in design and offerings, eventually moving up to eight-cylinder engines including the 249 cubic-inch straight-eight, which served in Pontiacs until the mid 1950s. During this whole time what Pontiac always managed to keep was its sporty design, including the classic "speed streaks" along the fenders and other sharp metallic trim. Still, until the 1960s Pontiac remained an also-ran company.
The DeLorean Era
Pontiac's fortunes quickly changed under the management of Bunkie Knudsen and car enthusiasts-turned executives Pete Estes and John DeLorean. Knudsen had the vision to see Pontiac as something other than merely slightly nicer Chevrolets and the idea to bring young blood like Estes and DeLorean into the fold.
This plan started out rather simply, with the introduction of a convertible based on the Pontiac Star Chief in 1957. The most expensive Pontiac to date, the car had a bored-out and powerful V8 and sharp looks. Though heavy and somewhat slow, the few cars produced were placed in dealerships and raised awareness of the brand's sporting nature. What would really turn on buyers came seven years later with the introduction of the Pontiac GTO.