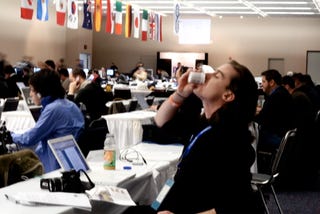 So that automotive journalists never see the light of day, automakers provide ample food at their events and in little cafes they setup above the auto show floor. Compared to certain auto shows where the food is of questionable chemistry, the grub isn't too shabby at Detroit (the only things not shabby in Detroit are within Cobo hall right now). Below is our list of the five best meals at Detroit, including a sporting meal with Bill Walton and Spud Webb.
The Top Five Favorite Press Meals At The Detroit Auto Show
1. Hot Dogs With Spud Webb & Bill Walton &mdash Kia
When Kia announced their 2009 Borrego the crowd of journalists was overwhelmed by vendors throwing at hot dogs and peanuts at the assembled press. The press was then led through a confusing presentation in which Bill Walton and Spud Webb started shooting (and missing) basketballs. What does this have to do with a Kia? We don't know either, but a hot dog is always a nice treat.