Nothing was normal about the Monster Energy NASCAR Cup Series race at Chicagoland Speedway on Sunday, including that a driver who had a 12th-place car most of the race wound up with a lead so big he was almost sure to win. But that was just the beginning, and led to some of the best racing you'll ever see.
There's no need to spoil the ending before the video embed, so here's some context: The red No. 18 car of Kyle Busch has the lead with a handful of laps to go on the 1.5-mile oval in Joilet, Illinois, with lapped traffic ahead and the No. 42 car of Kyle Larson chasing him down. Kevin Harvick, who's been dominant along with Busch this season, is in third—and even though Harvick is out of the camera shot for most of this, Harvick is never actually out of the picture.
Just watch what happens and avoid scrolling down for spoilers until it's over:
Watch it five more times if you need to. It won't get old.
It didn't look like Larson would catch Busch until the last lap, when he got a huge run going into the first and second turns. Larson, a dirt racer, went to pull a slide job on Busch by ducking to the inside and sliding up in front of him, but didn't complete it and ran into Busch instead. That put Busch into the wall and took away his momentum, letting Larson complete a pass for the lead.
But the problem with putting a driver into the wall, especially one like Busch who will fight back, is that if you hit that person for the win, you better finish it before they come and hit you back.
That's exactly what Busch did in the third and fourth turns, sending Larson into the start of a spin while Busch himself slammed the wall. Busch limped toward the checkered flag with lapped traffic around while Larson somehow saved the spin and limped to the line even more slowly, while everyone watching waited for Harvick's unscathed car to zoom by and win its sixth race this year—which would've been the most of any driver by two wins over Busch, had he done it.
G/O Media may get a commission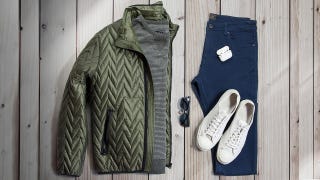 60% off
Jachs NY Fall Sale 60% Off
But Busch made it to the line first and came back around later to celebrate with a tire down, while Larson finished second place ahead of Harvick at an absolute crawl. And while it would've been a solid bet to think there would be some angry drivers after the race, Larson came around, gave Busch a thumbs-up and even went to victory lane to congratulate him.
Why? Because he started it, and Busch finished it.
"I'm not upset," Larson told the NBC Sports television crew after the race. "I had an opportunity there to slide in front of him and I figured I wouldn't clear him or I would allow him to drive back underneath me. So, I tried to get to his door, and I opened the door for him to retaliate into [turn] three.
"I thought it was free game. I ran into him first, he got me after that, maybe a little bit worse than I got him, but that's alright. I love racing Kyle. I know all of you fans are probably mad at him, but, hey, we put on a hell of a show for you guys and that was a blast."
Busch, after pretending to cry to the TV camera—an exaggeration of a move he does regularly after wins in front of NASCAR fans, many of whom have called him a crybaby over the years—told the NBC Sports crew that Larson used him, and he used Larson back.
"We were horrible today," Busch told the TV crew on the front stretch of the track. "Absolutely horrendous. But we just never gave up, we just always kept working on it and kept making the most of it, and got it to where we needed it right there at the end and were able to lead all of those laps. If it wasn't for lapped traffic, it wouldn't have even been a race.
"I don't know what y'all are whining about," Busch added, gesturing toward the crowd. "But if you don't like that kind of racing, don't even watch."
All the while, Larson lost and said immediately afterward, "That's got to be one of the best NASCAR finishes of all time."
Who does that? In what universe does an athlete lose and still get excited about how the competition ended? Whatever universe it is, let's all move there.