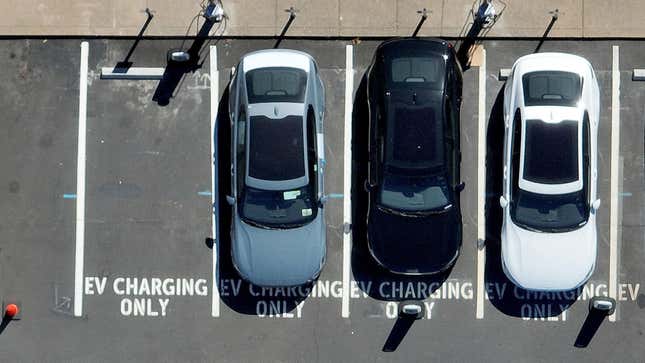 It looks like it's going to be a bit harder for automakers to convince people to give up their interior combustion-powered vehicles in favor of electric cars from here on out. According to Axios, the early adopter era for EVs is just about done. Now, it's time for the more price-conscious "early majority," and they're proving to be a tougher get for car companies.
The outlet reports that mainstream shoppers aren't really willing to pay the premium that most EVs command over gas-powered vehicles. A lot of that hesitation apparently comes from the idea that most consumers are still a bit apprehensive about charging electric vehicles. They also reportedly think better EVs are coming soon, so why get a meh one now?
Axios asserts that because of these issues, the EV transition is going to take a bit longer and be a bit rougher than experts first thought. It may be leading to some automakers hedging a bit when it comes to EVs by cutting prices or changing strategies. However, the outlet says that no automakers are going to be scrapping their EV plans altogether – they just acknowledge that they may need to be a bit more flexible.
For example, Ford has reportedly delayed its goal of scaling production to 600,000 EVs annually from the end of this year to 2024. CEO Jim Farley is also said to be hedging a previous target of producing 2 million EVs every year globally by 2026. Despite this, Ford is planning to triple production of its F-150 Lightning electric pickup after it slashed prices.
It isn't just Ford, though. GM says it is still committed to a full EV lineup, but manufacturing issues have reportedly delayed customer deliveries. It also recently killed its plans for an under-$40,000 version of the upcoming Silverado EV. Additionally, Mazda has killed off its very strange MX-30 EV in favor of more plug-in hybrids, and German automakers like VW and Mercedes have made changes to their plans.
All of these issues may be pointing to the fact that Toyota could have been onto something when it wasn't quite as bullish as the rest of the market on EVs. Instead of a slate of EVs, Toyota has chosen to focus on hybrids instead. Still, Toyota isn't completely out on EVs. I mean, the meh bZ4X is on sale right now, and there's reportedly a larger electric SUV coming in 2025. Axios also says that Toyota will introduce EVs with double the range of today's flock of cars by 2026 thanks to solid-state batteries.
Basically, the vast majority of consumers are still very much on the fence or outright against EVs. Full electrification sounds nice on the surface, but if no one is buying them, what's the point?