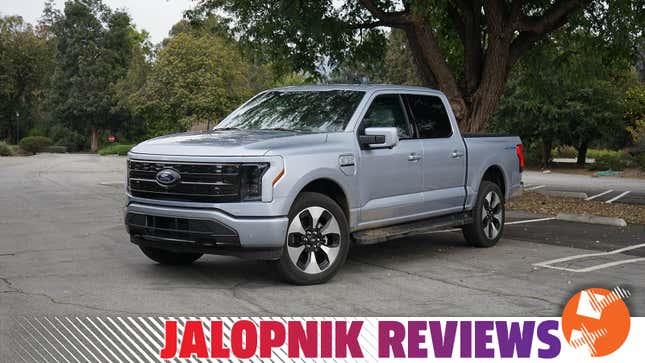 Electric vehicles are rad. They offer a unique driving experience that is pretty fun, even in basic, low-power models. I've driven and enjoyed the 1,000-plus hp Lucid Air as much as the Fiat 500e. What I've never driven, but have been super curious about, is an electric pickup truck. Right now, there are a few that you can buy, including the Rivian R1T, the Hummer EV and the Ford F-150 Lightning. The latter, to me, is the most interesting, because the Lightning has to cater to not only EV early adopters, but it also has to win over people who buy normal trucks.
Full Disclosure: Ford wanted me to drive an F-150 Lightning so badly, the company dropped off a 2023 Platinum model at my house with a full battery pack for me to use as I pleased for a week.
In case you missed it: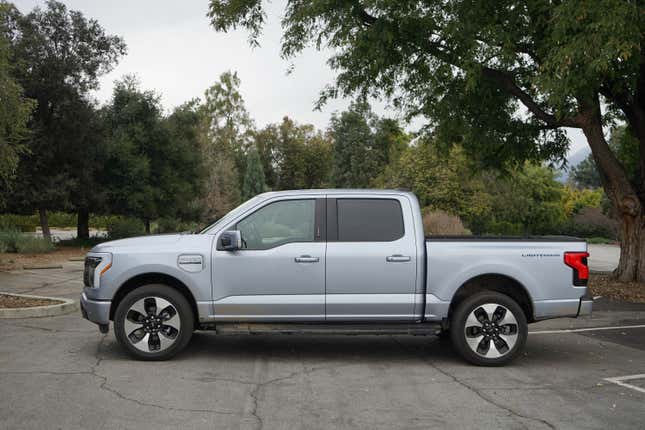 The 2023 Ford F-150 Lightning Platinum that I have as a test vehicle is a pretty serious piece of equipment. It comes equipped with Ford's extended-range battery pack, which is good for a claimed 300 miles of range (320 in the less luxe XLT or Lariat trims), 580 hp and 775 lb-ft of torque from its dual-motor all-wheel drive setup. For those of you playing at home, those aren't quite diesel Super Duty numbers, but they're not too far off. The sprint to 60 mph comes in 4.5 seconds, which feels wicked fast for a full-size truck.

While the body of the Lightning says F-150, underneath, it's a fairly different beast, and we're not just talking about the drivetrain. For example, the Lightning is the first F-150 to offer independent rear suspension. This, along with the Lightning's nearly 6,500-pound curb weight, has the benefit of the best ride quality I've yet experienced in an unladen pickup truck.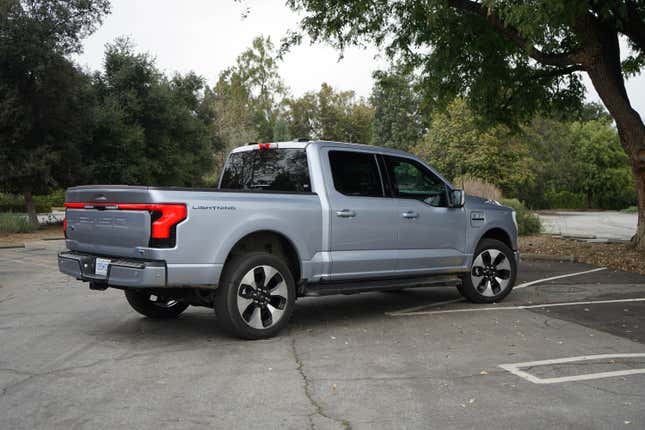 The Lightning is also built to work like a truck, with up to a 10,000-lb towing capacity (8,500 lbs in my Platinum tester) and a payload capacity of 1,952 lbs on all extended-range models. These aren't the best or the worst figures in the F-150 lineup, and in fact, they skew right toward the middle. Of course, just as with internal-combustion models, efficiency will take a nose dive when towing or hauling.

Thanks in part to the excellent ride quality, the Lightning is actually really nice to drive, particularly around town. The steering is light and accurate, and the brake transition from regen to physical brakes is fairly smooth. However, I mostly find myself using Ford's well-calibrated one-pedal driving mode and rarely touching the brake pedal as a result. The cabin is well-insulated and, in my Platinum model, very well-equipped.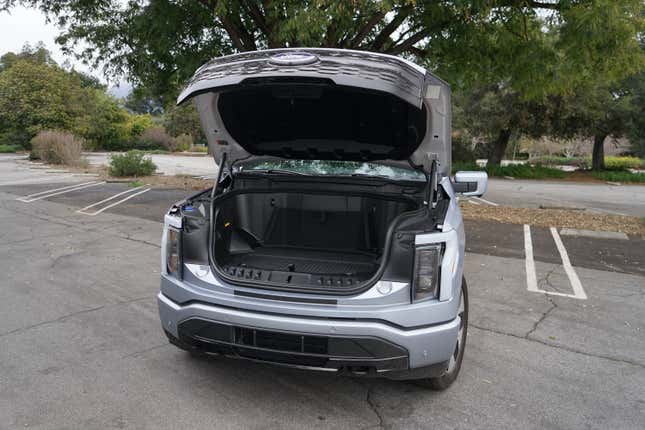 Being Ford's flagship F-150 model, the tech on the Lightning is great. The large portrait-oriented central dashboard screen is sharp, responsive and super easy to use. It's the same unit found in the also-excellent Mustang Mach-E. Wireless Apple CarPlay and Android Auto are standard and work like a charm. There's also a wireless charging pad, and the retractable shift lever is cool but ultimately not that useful, even with the center console lid flipped over into desk mode.

Safety tech is also pretty great, with Ford's excellent BlueCruise advanced driver assistance system coming along for the ride as well as all the individual features that make BlueCruise work, like lane-keep assist, adaptive cruise control, automatic emergency braking, blind spot monitoring, etc. Somewhat predictably, all these goodies are standard on the top-tier Platinum model.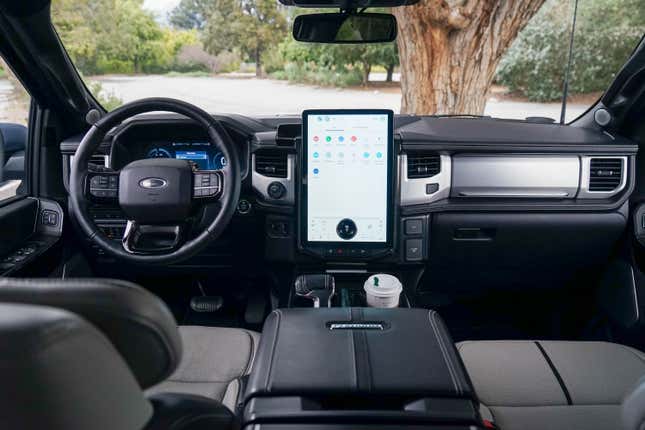 While the interior of the Lightning Platinum is a nice place to be, the quality of the materials is nowhere near what you would expect from a vehicle that stickers for an eye-watering $99,759, including a $1,895 destination fee. The seats look great but aren't especially comfortable, despite lots of adjustability. The leather is great for an F-150 but could be better quality for the money, and the dash looks plasticky and cheap in many places. It's far from being a penalty box, but if you're going to charge big-league money, you have to be able to back that up with big-league luxury.

Even with its mega price tag and its handful of flaws, the Lightning remains a massive achievement for Ford. It feels like a real truck, ready to do all the real truck things owners buy trucks for. As a first effort, it's a staggering achievement. Now, Ford needs to work on driving the price down. Even the "work truck spec" Pro version starts at $59,014, and that's still likely too much for most people to want to make the switch. Even at that price, it's cheaper than a Rivian R1T, which starts at around $73,000 and is aimed at a much more overland-y buyer.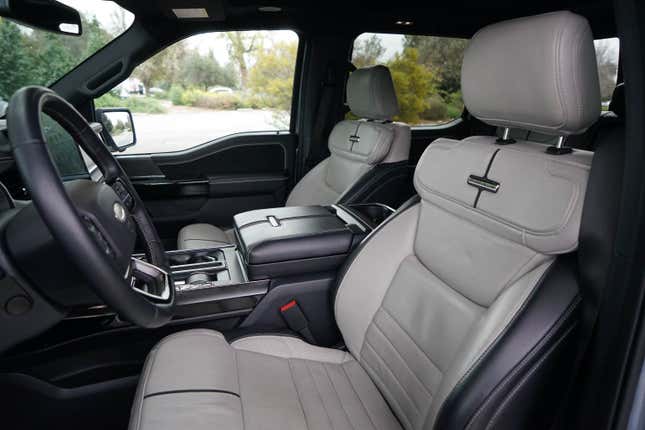 Should you buy a Ford F-150 Lightning? If you've got the cash, you're prepared to deal with the current crappy state of America's charging infrastructure, and you don't need to tow crazy loads, then yeah, absolutely. It's a killer drive, offers unique and useful features, and, thanks to Ford's "Power Up" over-the-air updates, is likely only going to get better with time. It lives up to the F-150 name and adds new value to it too, which is a massive achievement.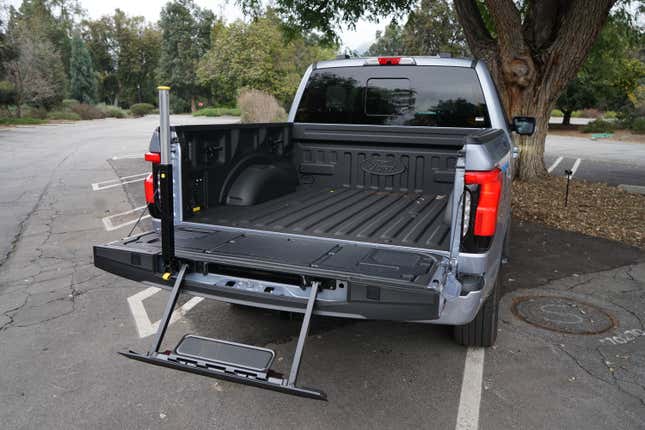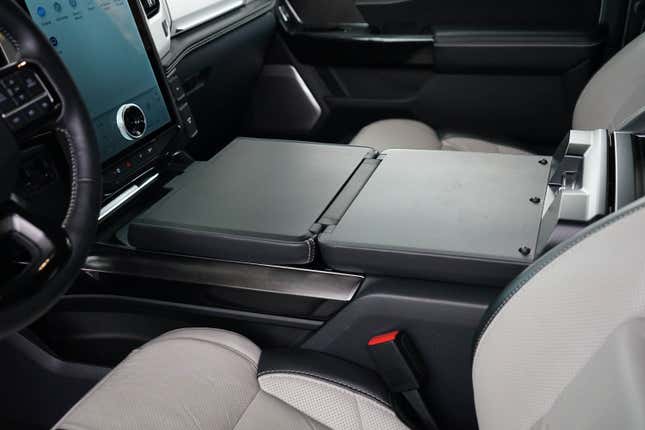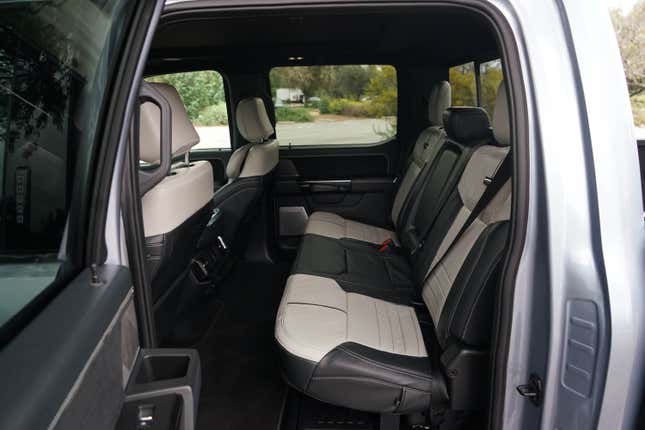 In case you missed it: