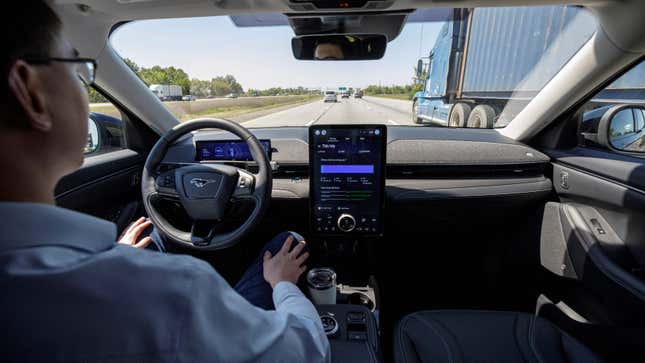 A sizable update is on the way for Ford's BlueCruise Level 2 autonomous driving technology, and it'll bring a long-awaited feature — hands-free lane changing. The automaker announced the new software today in a press release, stating that it'll arrive first to 2023 Mustang Mach-E models in the fall, before filling out the rest of the BlueCruise-capable range.

This NYC Garage Takes Vanlife To The Next Level | Jalopnik Visits
In fairness, the system isn't totally "hands-free" — you'll first have to tap the turn signal stalk to request a lane change, before the car carries it out once it deems conditions safe enough. This feature is only one aspect of version 1.2, which also includes In-Lane Repositioning and Predictive Speed Assist. Here's how they each work, courtesy of Ford's press release:
Lane Change Assist can help drivers move through traffic on the freeway with more confidence while using BlueCruise. The system will perform a hands-free lane change when requested by the driver tapping the turn signal, and it can even suggest if a lane change would be beneficial when following slow-moving traffic.

Predictive Speed Assist automatically and smoothly adjusts the speed as drivers approach a sharp curve and will help signal the driver ahead of time when a speed change is about to occur, so they understand why the vehicle is slowing.

In-Lane Repositioning makes the hands-free highway driving experience feel more natural, keeping the vehicle in its lane while subtly shifting the vehicle's position away from vehicles in adjacent lanes – especially helpful when next to bigger vehicles such as semis.
General Motors first enabled automatic lane changes in its Super Cruise semi-autonomous driving suite with 2021 models, so this is an important step in BlueCruise catching up to its most prominent — and most similarly named — rival. Especially considering the service didn't enjoy the most auspicious of starts.
That said, GM still offers its software on considerably more cars. Right now, only the Mach-E, certain F-150 trims and the Lincoln Navigator can run BlueCruise. (Er- ActiveGlide in Lincoln speak. I wish I was making that up.) That's compared to some six Chevrolet, GMC and Cadillac models and counting that are Super Cruise-ready.
Ford says that as of last month, some 75,000 drivers logged more than 16 million miles using BlueCruise and ActiveGlide. Ford also says it's aiming for "human-like performance" for the system's behavior, which is a point worth stressing.
The two lesser attention-grabbing features in release 1.2 — In-Lane Repositioning and Predictive Speed Assist — are really more about communicating the car's actions to its occupants, and driving in a way that makes those occupants feel a little safer, even if it doesn't actually make them safer. If we're ever going to get to Level 3, those sorts of reassuring, quality-of-life improvements will need to be made to bridge the gap between self-driving and those moments of necessary human intervention.