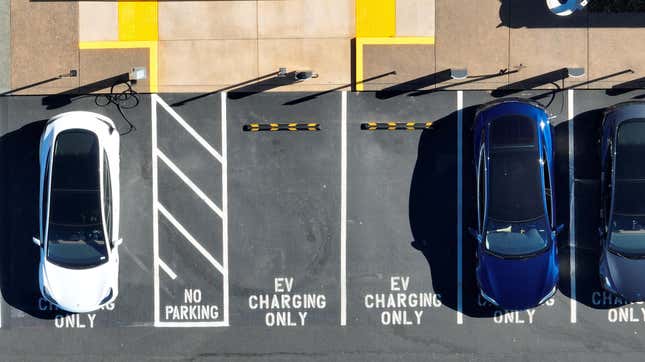 Tesla still may be the EV sales king in the U.S., but the automaker's competition is quickly gaining. Automotive News looked at new-vehicle registration data and found that Tesla's share of the U.S. EV market has fallen sharply since 2022. That's despite the fact that Tesla has been slashing prices, not to mention a new round of federal tax incentives to encourage new EV buyers.
In case you missed it:
AutoNews reports that Tesla had 95,829 new vehicle registrations in the U.S. during the first two months of 2023. That may be a 35-percent increase over the same time last year, but it was just a 3.7 percent increase over November and December of 2022. Keep in mind that Tesla's biggest price cuts happened in mid-January. These numbers are based on data from Experian, since Tesla does not break out individual sales figures.
Tesla's EV market share fell from 72 percent in January-February of 2022 to 58 percent in the same time this year. Now, 58 percent isn't exactly anything to sneeze at, but it's still a sizable drop.
The big reason for this dip is pretty simple: competition. Other automakers are putting out stronger EV offerings in a market that Tesla used to dominate. In January and February of 2022, AutoNews said Tesla had the nation's three most popular EVs, and four models in the top 10. Since then, the Model S has fallen out of the top 10.
"Tesla's longtime role as the only premium EV has shifted to one of many options, with additional EVs arriving in showrooms every month," Karl Brauer, executive analyst at iSeeCars.com, told Automotive News.
Since last year, the outlet reports that non-Tesla new EV registrations have risen 151 percent. The rise is being led by Chevrolet, Ford and Volkswagen for two main reasons: increased production and affordable vehicle options that heavily undercut Tesla's more luxury-priced offerings.
Still, Tesla has a huge leg up on the competition. Its 58-percent market share puts Tesla miles ahead of second-place Chevrolet (8.5 percent) and third-place Ford (6.4 percent) in the U.S. market.
In order to keep competitors at bay and reach his goal of 50-percent global sales growth this year, AutoNews says Tesla CEO Elon Musk has slashed prices considerably on most models. Despite his best efforts, demand is still easing. Musk, however, does not blame his cars. He says higher interest rates are the reason Tesla's growth is stalling, but he does admit Tesla really needs to make its vehicles more affordable to attract new buyers.
That thinking may be flawed, according to Bauer. As he tells AutoNews, even though Tesla can afford to cut prices because of its industry-leading profit margins, it may end up just being a temporary fix.
"No automaker has ever solved its problems with price cuts," Bauer told AutoNews. "And the tactic can also damage a brand over the long term."