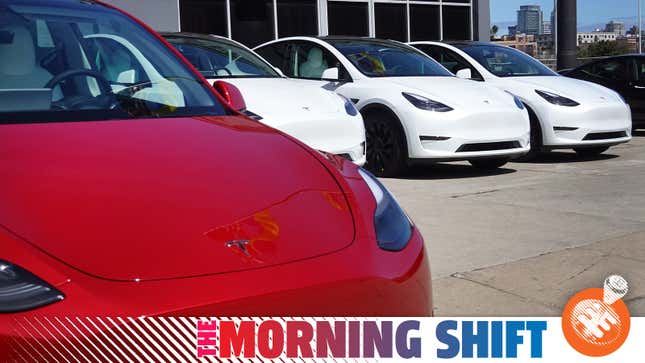 Tesla has found that massively slashing prices on your best-selling products is a great way to drive more purchases, Volkswagen wants everyone to know that the upcoming Golf refresh will likely mark the last with a gas engine and China has — get this — too many public EV chargers. All that and more in this Monday edition of The Morning Shift for April 3, 2023.

This NYC Garage Takes Vanlife To The Next Level | Jalopnik Visits
1st Gear: People Want Cheaper Teslas
Tesla ended 2022 on the ropes. It missed its year-end sales target. Demand for the brand's products, while strong, simply couldn't sustain Tesla's high prices. Elon Musk sold off billions of dollars of his own shares in the company, further tanking investor confidence and sending shares tumbling.
That's why Tesla had to begin 2023 with some pretty massive price cuts. And you know what? Those cuts have done the trick. The company announced this week that it set a new record for first-quarter deliveries. From the Wall Street Journal:
Elon Musk's electric-vehicle maker said Sunday that it delivered 422,875 vehicles to customers globally in the first quarter, up around 36% from the year before. The result also topped fourth-quarter deliveries by about 4% but fell short of the expectations of analysts surveyed by FactSet. They estimated the company would deliver around 432,000 vehicles in the first quarter.
Now, this isn't roundly a W for Tesla. The company had to deeply discount its vehicles with the lowest profit margins to achieve that result. Revenue for the first quarter of 2023 is projected to climb, while profits will likely fall short by about $700,000, if analysts prove correct.
Investors are poised to get a first look at how the price cuts are affecting Tesla's balance sheet on April 19, when the company is scheduled to report first-quarter results. Wall Street expects first-quarter profit to slide to around $2.6 billion, from $3.3 billion for the first three months of 2022, despite an expected increase in sales, according to FactSet. Quarterly revenue is forecast to climb above $23 billion, from $18.8 billion a year earlier, FactSet data show.

Model 3 sedans and Model Y crossovers, Tesla's more affordable offerings, made up around 97% of the company's first-quarter deliveries. The remainder were Tesla's luxury vehicles. The company didn't disclose having sold any semitrailer trucks in the period.
Look, I knew the Model 3 and Y were Tesla's biggest sellers; you can't travel anywhere in this country and not recognize that. But 97 percent! According to Reuters, Model S and X sales dived by 38 percent over the same timeframe. Tesla still wants to move 1.8 million cars globally before 2023 is out — something it'll now have to do without the help of the federal government's tax credits. It'll be interesting to see if it can keep up the pace with these volume sellers. Who knows? Maybe the Cybertruck will finally swoop in to lighten the load.
2nd Gear: The Numbers Are In
Sales of new cars that don't carry Tesla badges are also rising on the whole, according to the latest data from Edmunds by way of Reuters. Through March, 3,502,324 new vehicles found homes. That's good for about a 5.7-percent year-over-year boost, but 1.8 percent worse than the fourth quarter of 2022.

U.S. auto sales are expected to rise for a second straight quarter as automakers are able to ship more vehicles to dealers on time, analysts said, while focus will also be on watching out for signs of plateauing demand.

Vehicle production took a hit after the pandemic disrupted supply of semiconductor chips and other raw materials, hurting carmakers' ability to meet the upsurge in demand for personal mobility. The companies have been playing catch-up ever since as the supply chain snags gradually ease.

But rising interest rates and fears of a recession may play spoilsport in an industry where most vehicle purchases are financed with loans, analysts say. The average transaction price of vehicles, too, has surged over the last one year.

"Consumers are facing credit uncertainty as rapidly rising interest rates have created barriers to entry for even the most qualified buyers," said Jessica Caldwell, executive director of insights at auto research firm Edmunds.

Detroit giant General Motors Co said earlier this year it would halt production at its Fort Wayne Assembly truck plant in Indiana for two weeks to manage inventory.

The automaker is set to post a 15% rise in first-quarter U.S. sales, while Japanese rival Toyota Motor Corp's sales are likely to fall nearly 10%, when they publish data beginning Monday, according to consultant Cox Automotive.
Sales are still trending slightly up — even in the face of high interest rates and automakers focusing production on only vehicles with the greatest profit margins — because at the end of the day, Americans still need cars. Even now that the supply chain has started flowing more or less as intended, manufacturers still prefer to build fewer high-margin cars at the expense of low-price, low-profit models. You get the feeling they're pretty pleased with the arrangement.
3rd Gear: The Next Golf
...will probably be the last with an internal-combustion engine. But you assumed that already, didn't you? From the mouth of Thomas Schaefer, Volkswagen brand chief, to Automobilwoche, via Auto News:
The current, eighth-generation Golf will get a comprehensive update next year. "That puts it in a great position until the end of the decade. Then we will have to see how the segment develops," VW brand boss Thomas Schaefer told Automotive News sister publication Automobilwoche.

"If the world develops completely differently than expected by 2026 or 2027, then we can also launch a completely new vehicle again. But I don't expect that to happen. So far, that's not planned," Schaefer said.

The Golf has been in production since 1974 and its name will be retained for a battery-electric vehicle.

"It's clear that we will not be giving up iconic names like Golf, Tiguan and GTI, but will be transferring them to the electric world," Schaefer said. "But with the Golf in particular, it has to fit the genes. Just calling any vehicle that doesn't work. We won't make that mistake," he added.
Volkswagen has already signaled that the Golf name will remain with us long into the electric age. It even gave us an idea of how it might shape up, with last month's ID.2all concept looking distinctly like a Mk8 Golf that was hit by an EV ray.
4th Gear: China's Got a Nice Problem to Have
Most of the conversation you tend to hear around EV charging is that the infrastructure isn't where it needs to be. That's not so much the problem in China, where the average charging terminal is used but once per day thanks to a 1.8 million-strong network that seems like overkill. For the moment, anyway. Per Bloomberg:
All those chargers in China delivered about 21.3 terawatt-hours of electricity in 2022, about 0.25% of the country's total electricity consumption, according to Hove, who analyzed data from the China Electric Vehicle Charging Promotion Alliance. While utilization of individual public chargers is low, they combined to deliver enough power in December alone to move each EV in China's fleet about 1,000 kilometers (621 miles), suggesting that many drivers are using public facilities regularly, [senior research fellow at the Oxford Institute Anders] Hove said.

In many ways, the state of China's charging infrastructure is the envy of the rest of the world. Two of the largest installers are massive state-owned utilities to whom public good can be as important as profit margins. The nation also has ubiquitous and easy-to-use mobile payment systems that make transactions hassle-free.

But the lack of utilization can still frustrate drivers. Hove, who frequently takes EV road trips across the country, has often encountered public chargers that are under maintenance or no longer working. In one instance in Beijing, he found two chargers were installed on a pedestrian-only street, an indication of how little attention some companies have paid to how the equipment could be used. [...]

A future in which EVs are dominant also might not necessitate the same scale of public infrastructure available to refuel internal combustion engines. At least half of EV buyers in China can access a private charger, according to Oxford Institute's report.

"China has built out this huge charging network, and it's not clear that that's even needed," Hove said.
Ideally, once we get to a point where charging at home and/or work is ubiquitous, charging in between destinations won't be so important. That's a nice thought, isn't it?
5th Gear: Maybe People Just Hate Rentable Scooters
On Friday we learned that Paris was set to host a referendum on eliminating rentable electric scooters from the city. Today we learned of the results of that referendum, and they returned overwhelmingly in favor of a ban. From Reuters:
The e-scooter ban won 89% of the votes according to the city hall Twitter account in what was billed as a rare "public consultation" that prompted long queues at ballot boxes around the city. However turnout in the referendum was low at 7.46% of registered voters.

Mayor Anne Hidalgo said she would respect the vote.

"From September 1, there will be no more electric scooters for rent in Paris," she told a news conference late on Sunday.

Scooter operators pointed to the low voter turnout and said they hoped Hidalgo would seek a compromise.

"We remain hopeful that we can continue to work with Mayor Hidalgo to adopt sensible regulations instead of a ban on e-scooters, and avoid a step backward for Paris," a spokesperson for Lime said on Monday.

A spokesman for Dott said the referendum was "heavily impacted by very restrictive voting methods" which led to an extremely low turnout heavily skewed towards older age groups.
I would love to see how the vote was gerrymandered to favor the anti-scooter olds, as Dott's spokesperson essentially put it, considering nobody really seems to love sharable electric scooters quite as much as sharable electric scooter companies. They continue to exist today in many cities — albeit in fewer numbers — only because of heavy restrictions placed upon them by local governments. In a sense, they're sort of like the metaverse: rarely explicitly asked for, and yet vested parties will stop at nothing to make them a thing.
Reverse: Before Trains and Cars, There Were Horses
On this day 163 years ago, the short-lived Pony Express began its first deliveries. From History.com:
On April 3, 1860, the first Pony Express mail, traveling by horse and rider relay teams, simultaneously leaves St. Joseph, Missouri, and Sacramento, California. Ten days later, on April 13, the westbound rider and mail packet completed the approximately 1,800-mile journey and arrived in Sacramento, beating the eastbound packet's arrival in St. Joseph by two days and setting a new standard for speedy mail delivery. Although ultimately short-lived and unprofitable, the Pony Express captivated America's imagination and helped win federal aid for a more economical overland postal system. It also contributed to the economy of the towns on its route and served the mail-service needs of the American West in the days before the telegraph or an efficient transcontinental railroad.
Neutral: The Season, It's Changing
Semi-apocalyptic weather swept down the eastern edge of Pennsylvania on Saturday. But now that it's passed, the week ahead looks warm and sunny. Going to try to enjoy that while it lasts, and maybe get in the first windows-down drive of the year. What are you excited to do as soon as the temperature creeps into the seventies?