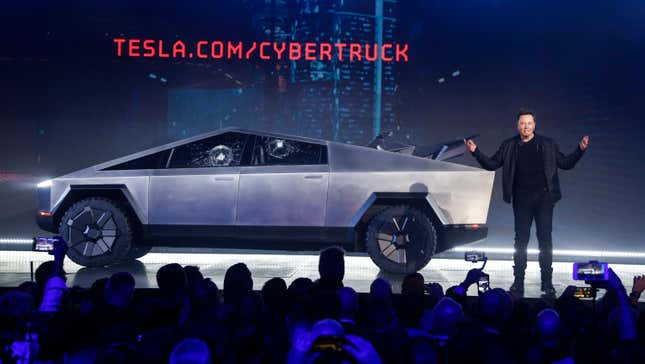 The Tesla Cybertruck is a vehicle that allegedly is supposed to perhaps begin production in 2024, after many delays, though we will believe it when we see it. One Wall Street analyst who has actually seen it — at Tesla's Investor Day — is Adam Jonas, who works at Morgan Stanley and has been studying Tesla for years. Jonas is also somebody who is relatively optimistic about the company: he rates Tesla's stock as a "buy" and has a higher price target for Tesla's stock, which means he thinks the company is generally going in the right direction. And yet Jonas also doesn't think much of the Cybertruck, saying in a note on Thursday that he thinks it will be a "enthusiast/cult car," and not for the masses, according to Automotive News.
"We regularly speak with clients who believe Tesla may sell hundreds of thousands of Cybertrucks annually," said analyst Adam Jonas after visiting Tesla's Texas factory, where the pickup will go into production later this year.

"We think it will more likely be an enthusiast/cult car with far more limited volume" closer to 50,000 units/year, Jonas wrote in a research note Thursday. There should be "some design and manufacturing learnings" from the Cybertruck that could make it into core Tesla vehicles, he added.

[...]

"The truck is real and we had a great time with it behind the Austin plant," Jonas said. "But financially it may be more of a sideshow to the Tesla story today."
Tesla's Model Y is The Most American-Made Car
Jonas continued:
"We feel the Cybertruck carries more value in a cultural/zeitgeist sense than in a direct economic sense," Jonas said. "We encourage our readers to ask themselves: How many Cybertrucks can roll up to a parent-teacher conference or youth soccer match at the same time before losing some of that indescribable something?"
Now, Jonas is an analyst who works for an investment bank who thinks a lot about Tesla, and whose opinion in those circles is highly respected, but he's also at the end of the day another guy with an opinion about Tesla, which may or may not turn out to be accurate. Maybe the Cybertruck will come out and smash everything or maybe it will be a big nothing; Tesla as always, is a Rorschach test. What the Cybertruck might also be now is beside the point.