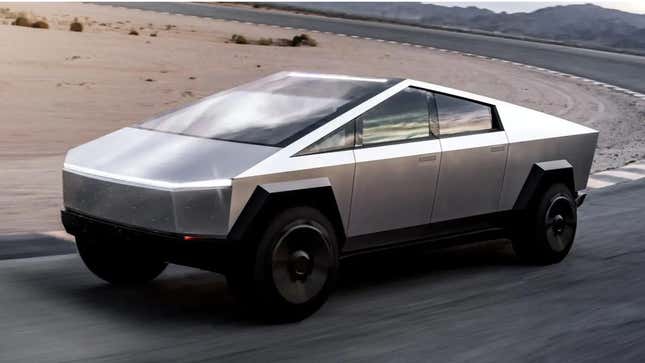 If you've been holding your breath since 2019 for a Tesla Cybertruck you need to think of your family and breathe; CEO Elon Musk announced in a call with investors Wednesday that volume production of the giant electric truck would likely only start in 2024.
Musk, of course, loves to say new products will come at some point in the future until they don't. He said the Cybertruck would go into production in late 2021 back when the vehicle was revealed in 2019. In 2021, production was delayed to 2022. When 2022 came around, Musk pegged production at the end of 2023. Now we're in 2023, and Musk has kicked the can further down the road.
There was some good news on the call: Tesla earnings rose 33 percent in the fourth quarter over a year ago beating projections and earning the automaker $21.3 billion, CNBC reports.
Musk also told investors that some Cybertrucks would roll off the line this year, but mass production wouldn't start for a while, according to the Verge:
Musk cagily confirmed that Cybertruck manufacturing would start "sometime this summer," but concluded that mass production of the polarizing pickup won't start until next year. "I always try to downplay the start of production," Musk said. "It increases exponentially, but it is very slow at first."

[...]

As a consolation prize, Tesla revealed on Wednesday that it has started installing the production equipment needed for the Cybertruck's assembly, including the castings that will produce the electric pickup's body. The Cybertruck is expected to be largely manufactured at the company's Gigafactory in Austin, Texas.

When it was first unveiled in 2019 we thought the whole thing was awkward and half-baked. Even so, Tesla claimed early in 2022 to have sold over one million reservations for the Cybertruck at $100 a pop.
But here we are four years later and Tesla has already lost its lead on bringing an electric pickups to market. The Ford F-150 Lightning, Hummer EV and Rivian R1T are already delivered, and the Toyota Tacoma Electric, Chevy Silverado EV and GMC Sierra EV slated to hit lots later this year or next. And these are vehicles made by legacy automakers which haven't faced the kind of persistent quality control issues Tesla seems to run up against.
Musk should probably avoid making grand predictions of the future. Last year, Musk promised fully self-driving Teslas by the end of 2022. The pronouncement was the ninth time Musk has claimed fully autonomous vehicles were right around the corner. Not only are Teslas currently not self-driving, Autopilot and Full Self-Driving Beta are now no longer the industry darlings they once were. Advanced driving assistance systems designed by Ford and GM are now favored by outlets like Consumer Reports and CNN. Multiple federal and state regulatory outfits are investigating Tesla for the dangerous software, and even some of the folks who paid thousands to test FSD Beta on the road are too scared to use it.