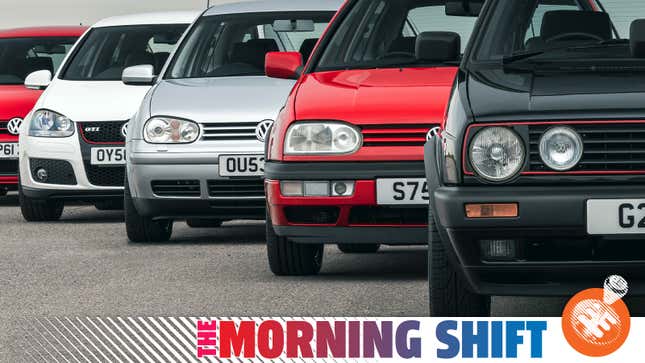 Volkswagen seems to have finally realized it's trying too hard, Nissan is recalling 405,000 cars in the U.S. for an injurious steering wheel emblem, and Tesla is taking some time to punch up the Model 3 in China. All that and more in The Morning Shift for February 15, 2023.

1st Gear: Volkswagen Learns What's in a Name
Volkswagen has been around for many decades, so I would think it's acquired an understanding, in that length of time, of the importance of a name people recognize. It's for that reason that I've never quite grasped the justification for the company's nonsensical Investigation Discovery rebrand. Now it seems like Volkswagen has second-guessed it too, according to the latest from Autocar, which reports that what was going to be dubbed the ID.2 or maybe even ID.Life will most likely be known as the ID.Golf:
Nothing is official at this stage, but Autocar has been told that a number of different naming combinations for the production version of the ID 2 have been proposed in internal meetings in recent months, including the ID Golf nomenclature first alluded to by Volkswagen CEO Thomas Schäfer in an interview with Autocar in October 2022.

At the time, Schäfer, who took control of Volkswagen in July after his predecessor, Ralf Brandstätter, was appointed to head up the company's Chinese operations, said: "The Golf name has huge value. The recognition it receives at [customer] clinics – people absolutely understand what we are talking about. So to change the name to something completely different doesn't make sense."

The initial suggestions were that the Golf name may be reserved for a facelifted version of the Volkswagen ID 3. However, this is denied by Autocar sources, who say "the true value of the Volkswagen Golf lies in a car the size of the ID 2".

In place of the controversial crossover design previewed by the VW ID Life concept at the 2020 Munich motor show, the heavily revised VW ID 2 is set to receive a more conventional hatchback shape developed by a team of designers under the guidance of Volkswagen's new design boss, Andreas Mindt.
A switch to a more conventional design is honestly welcome, considering the ID.Life concept had the LED-lit face and flocked texture of a forward-looking, sustainable EV, but the vague proportions of a peak-malaise Lada. Volkswagen, as usual, is trying too hard. But the electric Golf sounds compelling, on paper at least:
Those privy to the early proposals of the redesigned ID 2 say it sits halfway between the existing internal combustion-engined Volkswagen Polo and Golf in terms of exterior dimensions, with a length put at "around 4250mm".

With a relatively short bonnet and flat floor, it is claimed to offer "the sort of interior space of models typically one segment higher". Strong links to the fourth-generation Golf are made by Volkswagen insiders in reference to the new model.

At this early stage, the ID 2 is set to be offered in single-motor, front-wheel-drive form only. However, Volkswagen sources contacted by Autocar confirm the MEB-Plus platform will support dual-motor, four wheel-drive models and say such a configuration cannot be ruled out in the future.
Oh — and the GTI name is probably coming back:
"It will be relatively lightweight by electric car standards, somewhere between 1600kg and 1700kg," Autocar has been told. In a further significant move, Schäfer has also given the nod for a return of the GTI badge. It is set to replace the GTX model name first introduced on the Volkswagen ID 4 in 2020, paving the way for the first fully electric Volkswagen Golf GTI.

"The GTX is dead," a senior source revealed to Autocar. "A decision has already been made to replace it with the traditional GTI name and it is being considered for the ID 2."
Long live the Golf, and of course the GTI too. Who knows why it took Volkswagen this long to internalize that plenty of people associate happy memories with both names, and that nobody ever wanted or expected it to tear up the past as it charts its future.
2nd Gear: Nissan's Got a Big Recall
This one amounts to almost half a million cars around the world, and it's been prompted by a brittle Nissan steering wheel emblem that can turn into a projectile in the event of airbag deployment, per Automotive News:
The recall covers certain 2008-11 Titan, Frontier, Xterra, Pathfinder and Armada vehicles as well as 2008-09 Quest vehicles. It affects an estimated 463,472 vehicles globally, including 404,690 in the U.S.; 17,214 in Canada; and 6,471 in Mexico, according to Nissan spokesman Stephen O'Neil.

The resin emblem on the driver's side airbag covers in the affected vehicles may have "reduced durability due to potential Tier 2 supplier production process variation" and may develop cracks over time, according to a recall report submitted Monday to [the National Highway Traffic Safety Administration].

Nissan said it was aware of four incidents alleging injury related to the issue.

A repair is still under development.

"Owners with a loose, cracked or missing emblem should contact their local authorized Nissan dealer for diagnosis. If inspection deems remedy is needed, a limited number of parts or alternative transportation may be available," O'Neil said in a statement to Automotive News.

Swedish supplier Autoliv — one of the world's top airbag and seat belt makers — produces the driver's side airbag assembly, according to the report.
Dealers were reportedly notified of the recall on Friday, and letters are expected to be mailed to owners by April 10. As usual, you can get a head start and use the NHTSA's lookup tool right now to determine if your car is affected.
3rd Gear: Hot Pots and Planes
Cooking oil being converted into jet fuel isn't new, but Bloomberg published an illuminating story on Wednesday about how one Chinese company is seizing the opportunity, exporting thousands of tons of waste oil from hot pots in Chengdu to refineries:
The Chengdu-based company collects used oil, mostly from hot pot restaurants in the Sichuan capital of 16 million, and removes impurities such as sodium and metal particles. Its end product is a biofuel precursor usually called industrial mixed oil, which is then packed on ships that sail east along the Yangtze River to the port of Shanghai, from where it's exported to Neste Oyj, the world's largest producer of sustainable aviation fuel, and to global energy giants including BP Plc and Eni SpA, to be further refined into biodiesel or jet fuel.
The company — Sichuan Jinshang Environmental Technology — began shipping out the grease in 2016, about the same time China cracked down on the reuse of filtered cooking oil by restaurants and food producers. Given that the country consumes the most edible oil in the world — 41 million tons a year — and data from state-owned media estimates less than 3 million of that is recycled into fuel, there's massive potential for firms like Sichuan Jinshang to grow. All the while, regulators around the globe are emphasizing sustainable sources in the industrial fuel mix.
4th Gear: Shanghai Stoppage
Tesla is pumping the brakes on its Model 3 production lines at its Shanghai plant for the rest of the month, according to Bloomberg, as it sets about retooling for a newer, better entry-level electric sedan.
The plant has two phases for vehicle manufacturing, and some workers on the first phase won't be allowed on production lines from as soon as Sunday as the work on improving them is undertaken, people familiar with the matter said, asking not to be identified as the information isn't public.

Tesla has been upgrading the lines in stages over the past two months, with deliveries of the new Model 3 sedan — which the company is yet to publicly confirm — expected to begin later this year, the people said. The section of the factory currently being worked on makes Model 3s and Model Y sport utility vehicles.
It's very important that Tesla does what it can to make its core nameplate more competitive in China, as domestic rivals like BYD and Nio have stolen the company's market share. Tesla sold 17 percent fewer Model 3s in China last year compared to 2021, and Shanghai in particular contributed more than half of the almost 1.4 million EVs Tesla built globally in 2022.
5th Gear: But BYD's Not in the Clear, Either 
Berkshire Hathaway-backed BYD is in good shape these days, even if Warren Buffett continues to make the firm's other investors sweat every time he offloads some shares. However, China is on the brink of building more electric cars than it knows what to do with, at which point things may get considerably harder for one of the country's EV-making darlings. From Reuters:
The auto industry as a whole will add enough China-manufacturing capacity to make an additional 6.5 million vehicles per year by 2025, research from Bernstein shows; most of that will be battery-powered. Although BYD itself accounts for just over half of the total, a glut would weigh. The country's new production lines will outstrip demand growth between 2022 and 2025, the researchers forecast, implying almost 50% of China's factory firepower will stand idle by 2025, compared with around 30% a decade earlier.

A recent slump in spending means overcapacity will bite sooner. Sales of electric cars fell 6.3% in January from a year earlier; overall deliveries sunk more than a third, the China Passenger Car Association said on Wednesday. Meanwhile, consumers are increasingly spoilt for choice as brands launch new models, slash prices and vie to differentiate themselves with technology such as assisted-driving software.
BYD is in a better position than most, as it manufactures its own batteries and semiconductors, and can easily sell those to competing brands if its own starts to fade into the background of a crowded market. But at that point, the path to success will look considerably different for the company than it does today. There is apparently such a thing as too much growth.
Reverse: Dale Defeats the Drought
On this day in 1998, 25 years ago, the Intimidator won the prize that eluded him his whole career. From History.com:
On February 15, 1998, after 20 years of trying, racing great Dale Earnhardt Sr. finally wins his first Daytona 500, the National Association for Stock Car Auto Racing (NASCAR) season opener and an event dubbed the "Super Bowl of stock car racing." Driving his black No. 3 Chevrolet, Earnhardt recorded an average speed of 172.712 mph and took home a then-record more than $1 million in prize money. Following his victory, crews from competing teams lined the pit road at the Daytona International Speedway in Daytona Beach, Florida, to congratulate Earnhardt, who drove his car onto the grass and did several celebratory doughnuts, or circles.
Neutral: As Long as We're Talking Golf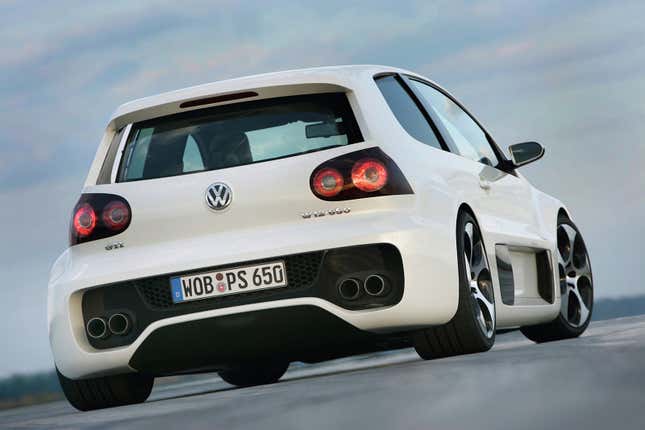 The GTI W12-650 never got enough credit.