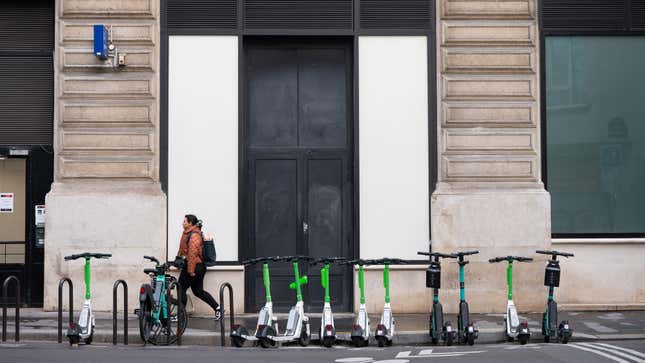 Paris residents are voting on their first referendum in a decade this weekend, one that would ban e-scooters citywide. Does it seem like the capital city of France has bigger fish to fry right now? Yep! But hey, the people's work still needs doing in the midst of massive, occasionally violent, weeks-long protests.
This Foldable Electric Scooter Is a Motocompo for the 21st Century
Paris was an early adopter of the e-scooter, leading to a free-for-all in the city that soured residents on this quick and zippy form of transit, Wired explains:
Lime, a US escooter company that arrived in Paris in the summer of 2018, blames the shift in attitude on politics. The city's early adoption of escooters was chaotic and crowded. By 2019, there were at least 10 companies operating in the city, with zero regulation. That led the city government to crack down in 2020, kicking seven operators out of Paris and imposing a limit of 5,000 escooters on each remaining company.

Lime was one of just three to survive the cull. Xavier Mirailles, the company's director of public affairs in France, says those changes brought order to Paris. "From that day in 2020, we were in a good place with the city," he says, over orange juice in a 9th arrondissement cafe. "We had a good relationship, with regular meetings."

That changed, he says, with the election of the Green Party's David Belliard, the new deputy mayor who is now in charge of transport, later in 2020. With Belliard in office, scooter companies say relations soured and their meetings stopped. "We are supposed to have a quarterly review of the services with all the operators, and this did not happen for more than a year," says Mirailles. Belliard, who said in January that he backs a ban, did not return WIRED's request for comment.

Why would an environmentally conscious deputy mayor in a city famously ready to outright ban cars not want to cut down on car trips in the city using what is supposedly an eco-friendly form of transit?
It turns out, e-scooters are not as environmentally friendly as they once appeared. The scooters live hard lives on these streets, being jostled, dumped or thrown around by users who don't give a shit and business owners sick of seeing early designs jumbled up on sidewalks. Irresponsible scooter riders have also caused deadly crashes on Paris sidewalks or seriously hurt themselves or others with falls or collisions. In heavily pedestrian Europe, crashes and bad behavior on scooter are a much more visible issue than here in the states.
But scooters certainly have their supporters, particularly from younger Parisians, who prefer the cheap mode of transit to expensive taxis or dangerous and often delayed public transit. They also feel messaging is being skewed in such a way as to lead voters on Sunday straight into a ban.