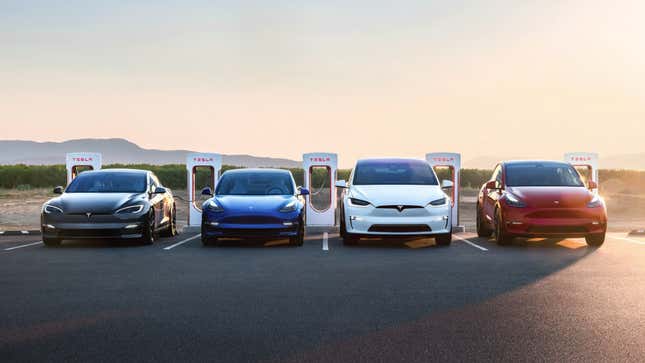 When Tesla announced it was drastically cutting the prices of its entire EV model lineup, it may have started a pricing war with other legacy automakers. These price cuts put Tesla more in line with vehicles from Ford and General Motors, according to the Detroit Free Press. In fact, while Tesla has been slashing prices, the other two have been raising them for some of their EVs.
What Exactly Is Going On at Tesla Right Now?
"Tesla cutting prices in one way is a shot across the bow, but in another way, it says they hear the footsteps of GM and Ford and that speaks volumes," Dan Ives, managing director at Wedbush Securities, explained to the outlet.
Part of that sudden feeling of pressure on the part of Tesla comes from the fact its CEO, Elon Musk, has so badly biffed his acquisition of Twitter. His antics at the social media site have certainly diluted some of the brand cache Tesla once had. Because of that, demand (and the stock price) are beginning to slip.
Ivan Drury, senior manager of Insights and Edmunds, says that because there are signs of an impending recession, customers are likely to adjust their spending. That means Tesla's cuts may be coming at the exact right time to keep market share away from the likes of Ford and GM. The report says that these cuts may have the effect of pushing those two companies to reconsider their pricing strategies.
"This cuts into pricing strategies that GM and Ford have had in the works for years. Vehicle pricing is essential to where and what consumers will cross shop," Drury explained to Freep. "Additionally, by Tesla utilizing a shotgun approach to pricing versus the more targeted incentives that we see from most automakers, makes what could have been ripples in the pond more like a boulder."
While Ford didn't divulge much information to the outlet about its strategy, a spokesperson for GM said that offering EVs at a wider range of price points is the center of their sales strategy.
That's all well and good for the General, but experts are still split on whether or not cheaper Teslas will mean legacy automakers will have to cut EV prices. Charlie Chesbrough, a senior economist at Cox Automotive, says the price cuts by Tesla put "pressure" on Ford and GM. He does admit that Tesla is still a fairly minor competitor to the two automotive giants.
Because of Tesla's relatively small portfolio of vehicles, some do not believe there will really be a need for bigger companies to slash prices, though it would be nice. With the new Tesla price cuts, the Model 3 and Model Y are inching ever so close to the same price bracket as vehicles like the Chevrolet Bolt EUV and Ford Mustang Mach-E.
I suppose only time will tell how this all shakes out.