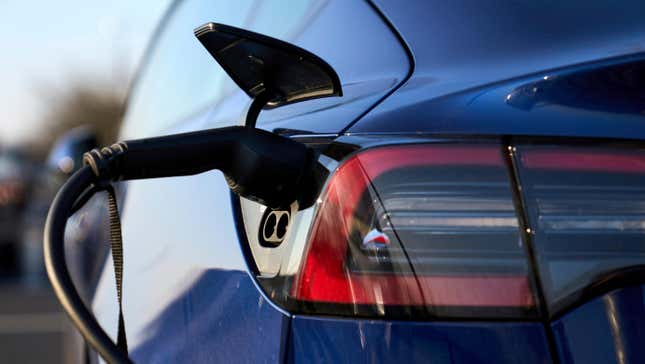 One of the more underreported aspects of the Inflation Reduction Act was a provision for a tax credit of up to $4,000 for buyers of certain used EVs. These tax credits come with a heap of restrictions — your adjusted gross income can't be higher than $75,000 single, or $150,000 on a joint return; the sale price of the car must not be more than $25,000; the gross weight of the car has to be less than 14,000 pounds; and so forth. But none of the restrictions are too off the wall, and you can see what the intent is, at least, which is to try to carve out a part of the EV market that might actually be affordable for normal folks.
On the new side of things, meanwhile, Tesla, the EV industry leader in the U.S., keeps cutting its prices, in part because there is the beginning of a mini price war happening here for new EVs, in part because the federal tax credit situation with new EVs has gotten a little confusing, and in part because there are simply more and older EVs on the road these days compared to five years ago, or even 10 months ago, meaning that for used buyers there is more choice.
We are, in other words, well removed from the days not too long ago when a used Tesla was not that much less expensive than a brand-new Tesla, because back then we all sort of convinced ourselves that EVs were almost indestructible, because of fewer moving parts and whatnot. That is no longer the case, but, in 2023, the used EV market is finally starting to emerge as something worth thinking about, though don't take my word for it.
Here's Reuters from today:
Used electric vehicle sales in the United States rose 32% in the first three months of 2023 as prices fell, data provider Cox Automotive said on Friday.

The group said the average retail listing prices for used EVs was around $43,400, down 4% from the same quarter last year and significantly below the average new EV price of about $59,000.

The group said used EV prices were probably cut due to aggressive price reductions by Tesla for new vehicles.

"As the market leader pushes down prices for new EVs, used-vehicle prices follow suit," Cox said.
The market, it seems, is noticing, and possibly this is in part because of that used EV tax credit, though maybe it's just because used EVs are cheaper, period. I don't make a habit of looking at Tesla's used inventory, because I have a life, but a search today showed a couple of used Model 3s not far from me for $31,800, which is more than $10,000 cheaper than the nearest new Model 3 in Tesla's online inventory, a base model. One of the used ones was even a Tesla Model 3 Long Range. A search of GM Certified revealed some used Bolts for a little bit cheaper than the used Teslas, in the upper 20s. I'd suggest consulting a tax professional to see if the EV you're looking at (and you) qualify for the used EV tax credit, but these prices are almost palatable. The market, it seems, already knows.