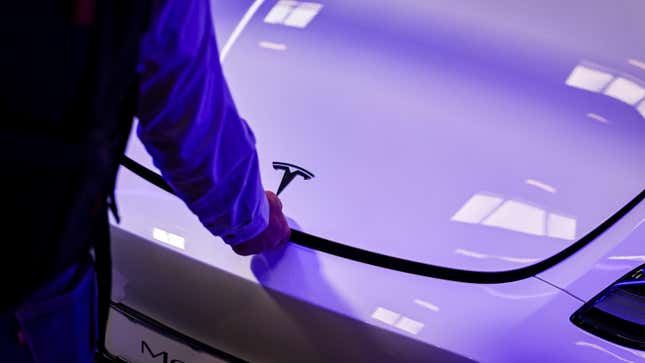 Back in 2018, then again in 2020, Elon Musk promised that Tesla would bring a $25,000 electric car to market within three years. The pandemic may have messed with our collective perception of time, but I've done the math, and it's been five years since that initial promise and we still don't have that $25,000 Tesla. Never fear, though! Musk's biographer, Walter Isaacson, has provided Axios with a tasty scoop: That cheap EV is coming, and it's going to be built alongside a robotaxi. There is no reason to doubt that this is the case.
Honda's Motocompacto Is The Ultra Portable E-Scooter That Can Fit Just About Anywhere
See, what happened in those five years was a little complex. At some point, Axios reports, Musk gave up on the idea of a cheap EV in order to chase a different dream: robotaxis. There are a lot of regulatory hurdles regarding autonomous vehicles tasked with shuttling people around a city, but Musk considered taking it a step further by building these taxis to be "truly" autonomous: As in, they'd have no steering wheel, pedals, or mirrors.
Musk's singleminded focus on this robotaxi came to an end after his inner circle finally presented some business plans to show both that Tesla definitely needed that $25,000 car to meet its growth targets, and that the company could manufacture that cheap car and its robotaxis in the same place. Porque no los dos? 
Isaacson's book, Elon Musk is set to come out this coming Tuesday, and it details all these plans, including the fact that this most recent iteration of the $25,000 has taken some design cues from the Tesla Cybertruck. Apparently, they'll both be "futuristic," but whether or not that means the cheap EV will be forged from stainless steel remains to be seen. (It is perhaps worth noting here that the Cybertruck hasn't actually been released to the public yet; folks have spotted Cybertrucks coming off the assembly line, but its official delivery date to customers has been regularly delayed.)
If all this has served to get you hot and bothered for this upcoming cheap Tesla, we'd recommend a bit of caution. Isaacson's excerpt shares a lot of details, but it doesn't include anything about any launch dates, nor does it confirm that the design is finalized. But this car is definitely happening, for real this time.