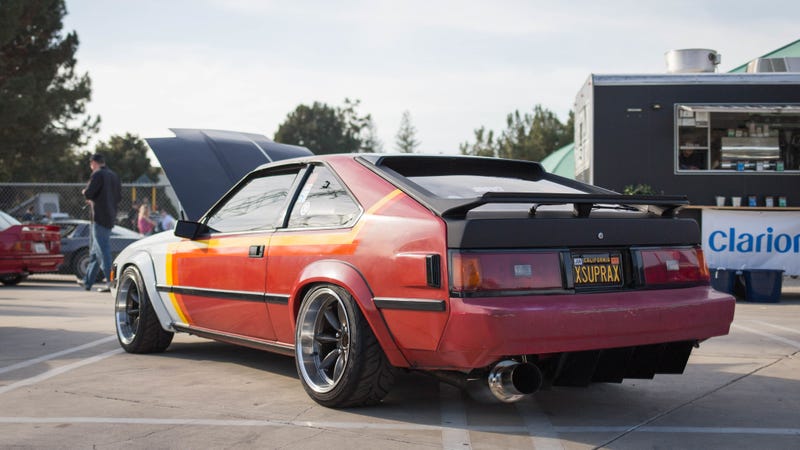 Last Saturday, the very best cars that the '80's and '90's had to offer descended upon The Phoenix Club in Anaheim, California, to attend Radwood 2. There was music, food, beer and great merch. Dogs and people decked out in their best '80s and '90s garb. It was incredible. You were all incredible.

If you didn't go to Radwood 2 in Anaheim this weekend, I'm about to make you feel really bad. I'm sorry.
We've been hyping the Radwood 2 show for weeks, and on Saturday our dreams of bringing the '80s and '90s back to the streets finally came to life. And because of all of you, it was excellent. Thank you.

Radwood 2 looked like a good neon time full of the old cars we actually care about. If you were stuck at home, you can relive the good old times vicariously through Jalopnik's Instagram here, or Radwood's main account here. We hope you all enjoyed it and weren't hassled too much for rad props by The Man.

The good news: Radwood 2, the sporty and dynamic 1980s and '90s car show, is just a few days away. It happens this Saturday, Dec. 2, in Anaheim, California. The bad news: if you wanted to display your rad car there, you're shit outta luck. But you can still come and look at the cars.
Hey kids! Are you in the Los Angeles area and have nothing to do Saturday, Dec. 2? Do you need an excuse to get out those old windbreakers, Members Only jackets and neon leotards? Then come to Radwood 2, our '80s and '90s-themed car show. It's gonna be totally bitchin'.
The Los Angeles Auto Show happens in a few weeks, and if panels about mobility and a warmed-over Corvette Z06 are your jam, it's going to be a nonstop thrill ride. But if you ask me the real action happens right after, that weekend, because that's when Radwood 2 goes down. And you should come!
If you ask me, the world could use a couple fewer car shows where millionaires scowl at each other on golf courses from behind their Bugattis and Delahayes. My ideal car show would have cars like the Camaro IROC-Z and Toyota Cressida and DeLorean, filled with good music and fine people there to celebrate iconic 1980s…