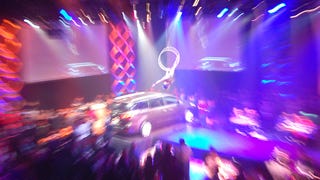 "Hey, Collins, why don't you just get out of here and go to the 2015 Kia Sedona launch party. That should be low-key and keep you out of trouble for a few hours." Erroneous, erroneous on both accounts.
Yep, those are signatures. Hundreds and hundreds of signatures. Every single person who helped build the first Kia Sorento scrawled their name on its sheet metal. Pride, thy name is brand-new (and surprisingly attractive) Korean SUV.
The 2010 Kia Sorento could be the vehicle we've all been waiting for. Combining the height of an SUV with the blandness of a Korean mid-size, it could even cure my insomnia.
Check out these official 2010 Kia Sorento sketches. Fascinating? Yeah, we're not overly impressed either. Not about the car per se, but teaser sketches in general.
It looks like AutoWeek.nl got their hands on some undercover shots of the 2010 Kia Sorento in a state of disrobement, making it the most recent of many new Kias spotted in similar states of nudity (joining the 2009 Kia Sportage, 2009 Kia Soul and 2009 Kia Forte). Full details on what to expect from the new Sorento…
Our truck-loving friends at PickupTruck.com are telling us this morning Kia will be bringing a mid-size pickup to the U.S. market by 2011 and they've even put together a pretty little rendering of what they think it might look like. The unnamed new pickup is reportedly based on the next-generation, front-wheel-drive…