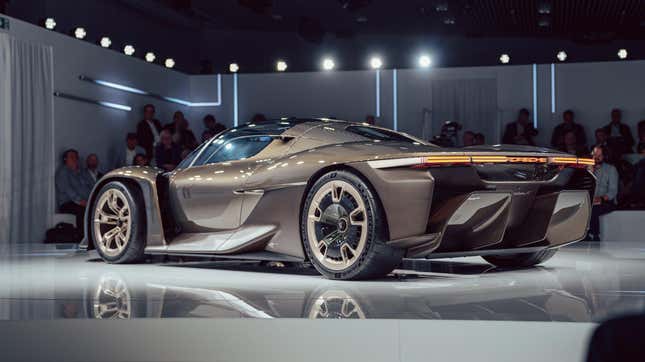 It's safe to say when the Porsche Mission X dropped yesterday we at Jalopnik all had the same reaction: Our hearts jumped out of our ribcages like a cartoon tom cat who just spotted a pretty lady cat. There may have been a "aahwooogah" sound as well.
And how could you not fall in love? From the sick wheels to the light-up badge to headlights that would make Jason Torchinsky blush, the Mission X is an aggressive and uniquely styled car that feels futuristic without being schlocky. The best part? The concept electric hypercar has a good shot at actually seeing the light of day.
Here's some of the best details we grabbed earlier from the limited press release:
First, we see that Porsche wants to set a new Nurburgring lap record (unofficially, of course) and that it should have a power-to-weight ratio of around 2.2 lbs per hp.

It should also have "significantly more downforce than the current 911 GT3 RS," which means it'll be better than 1,895 pounds at 177 mph, and that's frankly staggering. It will also be relatively small by hypercar standards at 177 inches long, 78.7 inches wide, 47.2 inches tall and a wheelbase of 107.4 inches. Lastly, it will charge around twice as quickly as the Taycan Turbo S.


Oh, yeah, and it'll be road-legal.

I want you to close your eyes and imagine this gorgeous machine just going down the road, like some common Kia Sorento or Honda Ridgeline. Mortal cars would pull over to the shoulder in the presence of this anointed vehicle. It's a better world. A more beautiful world. You don't want to leave that world and hey, that's understandable.
But that world doesn't exist, at least for now. Time to open your eyes (welcome back) and use those peepers to peruse all the photos Porsche has so far released of the Mission X (we will add more as they come out.) You'll be glad you did.