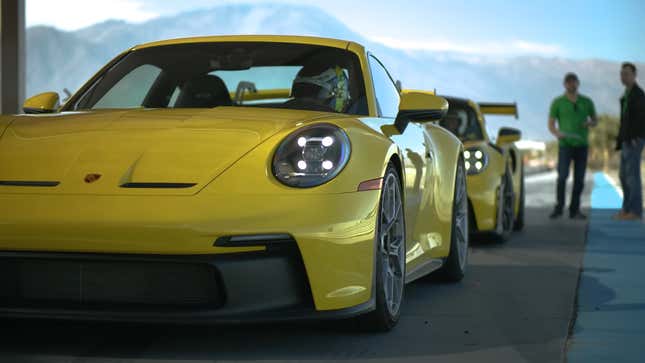 The Porsche 911 GT3 RS is an incredible car. It's fast, it's complicated, a track weapon that anyone can drive. But how did it get so incredible? What secret sauce did Porsche whip up to build such a car, and how did the company apply it to the 992 chassis?
Andy Got a Brand-New Porsche 911 (Made of Legos)
If you've ever wondered, Savagegeese has your answer. Jack and Mark got the chance to test the 911 GT3 RS, but didn't stop at a track drive and a few pieces to camera—they delved into the car's development, spoke with engineers, and figured out exactly what made the GT3 RS so good.
Much of the answer lies in materials, with Porsche building much of the GT3 RS out of a material we plebs usually can't afford: Carbon fiber. Rather than sticking a big, showy wing on a base GT3, Porsche remade most of the car's body specifically for the RS model—even going so far as to build the doors from carbon.
Of course, light weight means nothing if you can't keep it planted to the road, and Porsche threw every trick in its book at that problem. The GT3 RS's rear tires are well over a foot wide, providing massive grip, and the full-body aero kit keeps the car glued to the pavement even better as its speed creeps higher.
The Savagegeese crew looked far beyond just carbon fiber and tires, but you'll have to watch their full vide to get all the answers on exactly what makes the RS special. Stick around at the end for a bonus—raw footage of the car on track, unencumbered by music or any chitchat from the interior.