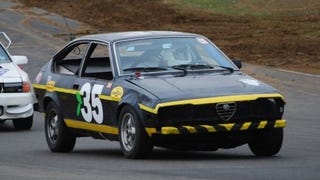 The Alfettas would have an even better record, had we used results from 2007 races, but even so they've done very, very well as LeMons cars. For reasons that make no sense, the Alfa Twin Cam four-cylinder engine hasn't been as reliable as the Milano's V6, but it's been good enough to propel many pre-GTV6 Alfettas into…
We've seen some members of the Alfetta family excel in 24 Hours Of LeMons races, with one coming in third at the Goin' For Broken race in May. No such luck for this one!
It's just not racing without Italian cars, and we're fortunate that mere mortals are so terrified of Fiats and Alfas that the prices are quite reasonable for not-so-perfect examples. Sadly, one of the promised X1/9s didn't show, but the red-white-and-green was still amply represented at the Arse Freeze.
Welcome to Project Car Hell, where you choose your eternity by selecting the project that's the coolest... and the most hellish! Yesterday, we had the chance to choose between two potential moonshine runners, with either of which one might keep bread on the table during the coming Financiapocalypse, and the Mercury…