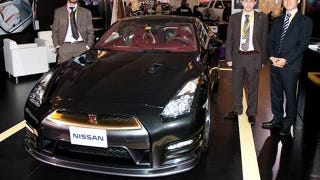 Nissan Middle East has just put a new Nissan GT-R on the market. Officially called the VVIP edition, it has a custom sound system, a leather cabin, and gold trim. We'll call it the GT-R Brougham d'Elegance.
Nissan's really improved the GT-R's launch control function—now dubbed LC4—for 2012. Flip it on and you can slingshot from 0-60 in 2.9 seconds. Let's hear it for strategic clutch slippage and timing retardation. [ToTheFloor.com via NAGTROC]
Nissan GT-R owners quickly discovered achieving the company's touted performance numbers meant using launch control, thus voiding their warranty. Nissan dropped launch control for 2010. Now it's back — as "R Mode Start." Here's how to do it.
The lizard wizards of the Nissan GT-R forum have the order guide for the 2012 Godzilla. Six colors, four of them extra, and choices of a rear camera, all-weather tires or floor mats. Sorry, no pink-leather Egoist for America. [NAGTROC]
The 2012 Nissan GT-R will rip off a 0-to-60 mph run in an astounding 2.9 seconds, according to a company test at Japan's Senda Hi-Land raceway. The outgoing GT-R? 3.3 seconds.
The 2012 Nissan GT-R's mostly just an ugly-pretty face, as details remain scarce. Rumor has it the new GT-R will jump from 473 hp to a more Godzilla-like 500 hp. The people of Tokyo should start evacuating now. [AutoCar]
The updated 2012 Nissan GT-R made its bow at the Paris Motor Show, quietly biding its time away from the spotlight. The city of lights is no place for a lizard to go stomping.
Four completely undisguised 2012 Nissan GT-Rs were caught testing yesterday at the Nürburgring showing an extra fin, revised front bumper and awful LED foglights. Oh Godzilla, what tiny, blindingly bright lower eyelids you have. [NAGTROC]
The Godzilla-loving folks at NAGTROC claim upgrades to the 2012 Nissan GT-R are far more substantial than we had initially expected. The 2012 model gets chassis tweaks, revised suspension and an all-new rear-wheel-drive-only mode. Burnout control perhaps?
Leaks indicate the 2012 Nissan GT-R's getting slightly honed — lighter forged wheels, improved aerodynamics, LED running lights, new colors, small interior upgrades, and apparently a bump in power.
The Nissan GT-R achieves great speed in part to its technical wizardry, which makes the Best Car-sourced rumor of a Nissan GT-R going hybrid with a 110 HP electric motor a juicily-plausible one. [4WheelsNews]