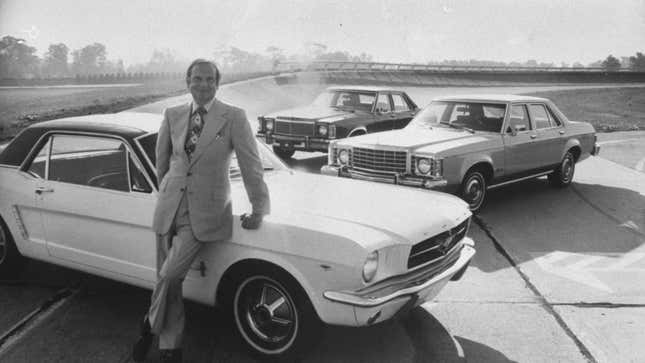 Lee Iacocca is a man remembered for many things: being the first "celebrity" CEO, introducing the Ford Mustang and Chrysler minivans, and convincing the government to bail out Chrysler in the middle of a recession while convincing Americans to buy Chrysler's crummy K-cars. What's sometimes forgotten is that Iacocca invented one of the most radical changes to the American automotive landscape, one that's still wielding huge influence today: The long-term auto loan, which helped created the modern two-car American family.
In case you missed it:
The explosion of the automobile culture in post-WWII American led to another radical change in our nation's culture: the American suburb. With homes now far-flung from the city centers where most folks worked, this new style of living increased reliance on private car ownership. And while the automobile may have represented freedom to young post-war American men, homemakers were left trapped at home when their husbands took the family car to work. There were errands to run, children to retrieve from schools and weeks' worth of groceries to transport. A car was a huge purchase — one that few average average American families could afford to make twice. Automakers had offered various lending schemes since the early days of autos, but with the rising cost of cars and the need to have two, a new way of buying cars was needed.
Enter Lee Iacocca and his "$56 for '56" program. As assistant sales manager for Ford in the Philadelphia area, Iacocca came up with a scheme where customers could put 20 percent down on a new 1956 Ford model, and then make $56 payments each month over three years.
"$56 for '56" not only kicked off a big sales rush for Ford, it helped spur a surge in women getting driver's licenses. The 1950s was the first decade that saw half of all adult women in the U.S. licensed to drive. And for Black Americans, purchasing a Ford in this way could mean newfound freedom. Journalist Janus Adams, author of the book Freedom Days: 365 Inspired Moments in Civil Rights History, described what "$56 for '56" meant to her Black family in the Stamford Advocate:
My father, who'd been sharing a lush 1949 Buick sedan with his father, plunked down his 20 percent, my mother got her learner's permit, and that young couple drove home in their first car: a '56 Ford. With its sleek black exterior, mini-fantails etched in chrome, red-and-white interior sunny as a picnic tablecloth, it was handsome indeed — and more.

For families everywhere "$56 for a '56" was a ticket to ride the nation's new interconnected highway system. For Negro families it was freedom — an escape from the Jim Crow railroad cars and buses of the South and the sniveling rebuffs of the North.

[...] For 20 percent down and "$56 for a '56" Ford, my parents bought their freedom. With all the advantages at our government's command, I expect no less for the country today.
It quickly became less easy for Black Americans to access car loans (a prejudice that continues in the financial world for every type of loan to this day), but these early days of automotive finance payments helped spur the second wave of the Northern Migration, as Black Americans from Jim Crow South headed North in search of better-paying factory work.
Iacocca later claimed that Ford sold an additional 70,000 cars thanks to his program. While he would say something like that, there's no debate that the program was extremely successful. So successful, in fact, that Ford introduced the program nationwide. Iacocca's brilliant move quickly pushed him up the ladder at Ford. After having a hand in several major wins for the automaker, including the introduction of the Ford Mustang, Iacocca reached the office of CEO in 1970.
Decades later, car loans are a necessary evil for many Americans. The proliferation of freeways, as well as the cementing of suburban and exurban life, has created whole communities totally reliant on a car for basic tasks. And, of course, underprivileged folks are shouldering a huge burden. The average car payment is now at $777 a month, with the average used car loan price hitting $544 a month. It gets worse — the average APR on a car loan is an astonishing 12 percent. For more buyers than ever, monthly car payments are exceeding $1,000.
Experts now agree we need to banish the car-centric culture from the U.S. if we have any hope of staving off the worst affects of climate change and improving Americans' mental and physical health. But there was a time, long ago, when that car payment really did mean freedom for so many.