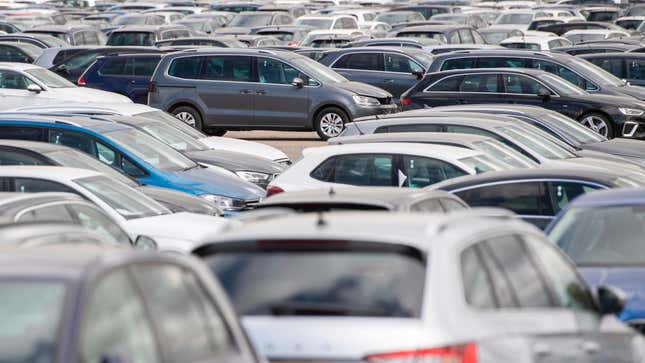 Most Americans regard a car payment — either for an auto loan or a lease — as a certainty in life, like death and taxes. This is in part because the auto loan rates have been relatively cheap until recently, and in part because cars are a necessity for most Americans, and most Americans can't afford to buy a new car in cash. Thus: loans, the average payment on which for new cars was around $400 in the 2010s, according to Bloomberg. That number, now, is a whopping $777, Bloomberg says.
Meanwhile, the corresponding average payment for used cars is $544. The reasons are pretty obvious: Automakers have mostly bailed on cheap cars, because they make more money selling expensive cars, and also, various parts shortages have squeezed new car inventories, putting pressure on the used market to make up for it, and driving up prices there. Interest rates are also higher these days. Plus, there is a pent-up demand, so the situation likely won't be changing any time soon. Add in that automakers are attempting to not carry so much inventory anyway, so thus they don't offer discounts to move it. And, yes, EVs (for now) are slightly more expensive than the cars they're replacing.
Still, I hadn't realized how bad it's gotten. I mean look at this poor guy from the Bloomberg story just trying to buy a regular 7-year-old Honda:
Sercy Sanders has been riding the bus in Pittsburgh ever since the transmission blew on his 2006 Acura TL in early January. When the cost of repairing it was more than the car was worth, Sanders got pre-approved for a loan from his credit union and set out to find a 2016 Honda Accord for under $17,000. But he found nothing for less than $19,000 and now is looking at models that are over a decade old.

"That's just the way it may have to be if I want to stay in my price range and not have too high a monthly car bill," said Sanders, 48, a customer service representative and single dad of two high schoolers. "It's very frustrating. I wanted a newer vehicle that I felt would be more reliable. With an older used car, you just never know what you're going to get."
And the numbers don't lie:
The dearth of cheaper models means more new cars are being snapped up by affluent consumers. Nearly 30% of the market is from households with annual income of more than $150,000, up from 22% in 2016, said Mark Wakefield, managing director at consulting firm AlixPartners.

"You've seen a move to more wealthy people buying cars," Wakefield said. "The bottom part of the market sort of fell out."
I'm old enough to remember when all of us were shocked and appalled when the average new car payment shot up to $523 a month, but that seems rather quaint these days. I'm also wondering how sustainable current prices really are, which is something I probably said this time last year, too.