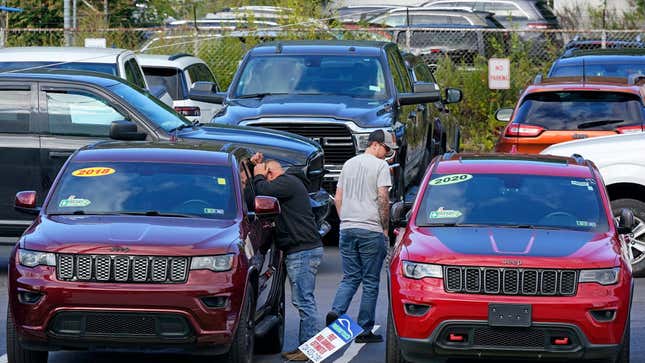 If you're a car enthusiast like me, you'll notice cars as you drive around. The number of high-priced cars I've seen on a daily basis has puzzled me for a while. This isn't to say that there aren't a lot of people who can afford these things, but it does raise some eyebrows. And it looks like my concerns aren't unfounded, as a report from Edmunds shows the number of people that willingly accepted a car payment of $1,000 or more rose at the end of 2022.
Both interest rates and vehicle prices have gone up, with the average price of a new car hitting $46,382 at the end of 2022 (per J.D. Power). That costlier financing isn't stopping people from signing on the dotted line, though. Data from Edmunds shows that 15.7 percent of people who purchased a car in Q4 of 2022 agreed to payments of $1,000 or more. If you think that's bad — it gets worse.

That 15.7 percent is the highest number it's been in a decade. And it's been on the rise for the last two years. In Q4 2020, just 6.4 percent of people agreed to $1,000 payments; by Q4 2021 that number had jumped to 10.5 percent. Across the board, the numbers are ugly. Remember, all these averages are from Q4 of 2022:

People are putting more money down to offset higher finance costs. The average down payment went up to $6,780 for new cars and $3,921 for used.
Used buyers are agreeing to payments over $1,000 as well, with 5.4 percent of used buyers agreeing to a grand a month for a used car.
Interest rates are continuing to rise with the average APR for new cars rising to 6.5 percent in Q4 2022. That's up 0.7 percent from Q3 2022 and 2.4 percent from Q4 2021.
This all may end up getting a lot of people into trouble. Thousands of people could potentially be underwater on their loans. The beginnings of it are already there
Over 17 percent of sales that had a trade-in were underwater in Q4 2022. That's up from 14.9 percent in Q4 2021 but way down from the 31.5 percent of buyers in Q4 2020.
The average amount owed on these upside-down loans was $5,341 in Q4 2022. That's up $1,200 from Q4 2021 but just $282 more than Q4 2020.
So what does all this mean? It means that 2023 could turn out to be a very interesting year for a lot of people. And when I say interesting, I really mean a lot of people are going to find themselves in some deep trouble all because they just had to have that shiny new car.