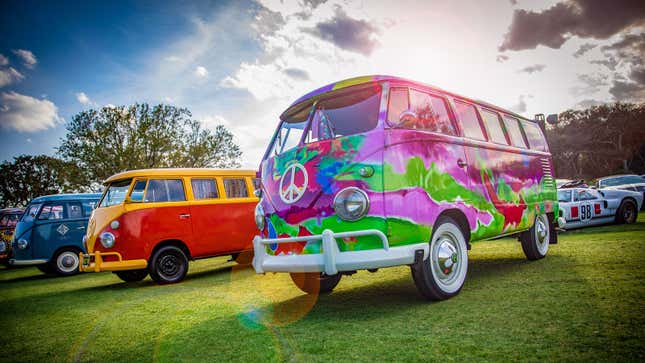 There are a few things that I wholeheartedly love in this world: The Arctic Monkeys, tiramisu and the Volkswagen bus in all its forms. Whether it's a people-carrying bus, a converted camper or even a retro pickup, the VW Transporter is perfect in every way. Just like The Arctic Monkeys.

So imagine my excitement when I heard that the German automaker was celebrating all things Transporter with a new class at the super-fancy Amelia Concours d'Elegance car show. The event, which is usually filled with million-dollar motors from the likes of Ferrari, Bugatti and Lamborghini this year cornered off a whole area for these humble buses, and some of the vans that showed up were truly exquisite.
This year's celebration, which coincided with the 2023 launch of the new ID. Buzz, showcased some of the best first-generation Volkswagen Type 2 Transporters that you can find in America. From flower-power-inspired buses and immaculate pickups, to a restored Type 2 that had its rear wheels replaced with tank tracks, there were some wonderful machines on show.
So, sit back, relax and throw on some Grateful Dead while we enjoy some wonderful chunks of 1950s automotive history.