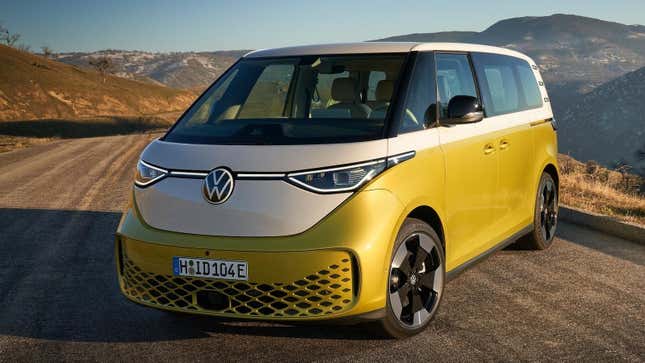 If you feel like you've been waiting forever for Volkswagen to actually sell the retro-styled electric ID.Buzz here, you're not alone. Technically, the concept was revealed in early 2017, but it may as well have been an entire lifetime ago. Trump's presidential inauguration hadn't even happened yet, nor had the pandemic. Many, many years later, Volkswagen revealed the production version of the ID.Buzz, but that was only for Europe because why should the U.S. get nice things at the same time as Europe? But that's all about to change this summer.
The New VW ID.3 Looks Great, But Won't Come to the U.S.
In case you missed it:
Earlier this month, Volkswagen sent out a press release about the vintage van display it had planned for the Amelia Island Concours d'Elegance. And tucked in right at the end of that release was an important little piece of information. "Along with Volkswagen's all-electric compact SUV, the ID.4, the Type 2's electrified successor, the ID. Buzz, participated in the Taking Charge parade of EVs on Sunday morning. The appearance of the European ID. Buzz helped announce to event attendees that the debut of its longer wheelbase North American version will take place in California this summer," Volkswagen said.
Motor1 then reached out to Volkswagen for more information and received an official confirmation that the long-wheelbase version of the ID.Buzz that will be sold in the U.S. will be revealed in June. But sadly, as we've known for a while, it won't actually go on sale this year. Instead, we'll have to wait until 2024 to get our hands on the U.S.-spec ID.Buzz. More than seven years after Volkswagen first showed off the concept.
So there it is. We can finally see a light at the end of the tunnel. The ID.Buzz is sort of almost here. But there's still a lot of waiting to be done before you can head over to your dealer to actually buy one.