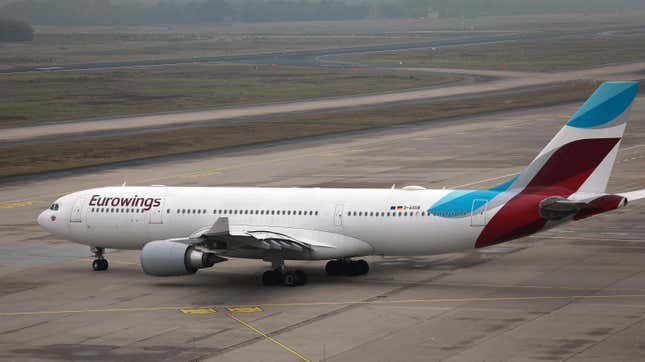 The U.S. Department of Transportation has decided to fine German carrier Eurowings $225,000 for an incident that happened in Fort Lauderdale, Florida, four years ago. Transatlantic flights are already uncomfortable experiences at their core. Passengers in economy have to spend at least a third of a day in a cramped seat, shoulder to shoulder. Now, imagine crossing the ocean and spending an extra five and a half hours trapped on the plane as it sat on the tarmac.
In case you missed it:
In July 2019, Eurowings Flight EW1182 was traveling from Dusseldorf Airport in Germany to Miami International Airport. Due to a weather-related closure, the Eurowings Airbus A330 was forced to divert to Fort Lauderdale-Hollywood International Airport. The A330 landed at 5:14 p.m. local time and parked at a remote stand after spending 10 hours flying and 30 minutes holding in hopes of landing in Miami.
The Eurowings flight crew requested to deplane the passengers and transport them to the terminal by bus but was unable to fulfill the U.S. Customs and Border Patrol (CBP) requirements to do so. CBP required that checked baggage be offloaded if the passengers were to be deplaned, but there were no ground handlers available to offload the bags. The passengers were stuck on the plane.
Two hours later, ground handlers were finally available. However, the Eurowings flight crew declined to deplane the passengers and requested to fly to Miami. The Airbus A330 sat on the tarmac for an additional three and a half hours until Eurowings was informed that Miami International Airport was still closed due to the poor weather conditions.
That's when passengers, restless and fed up with the situation, called local police. With police assistance, the flight's 268 passengers finally deplaned at 10:50 p.m. in Fort Lauderdale.
In response to this week's fine from the U.S. Department of Transportation, Eurowings stated that it didn't operate regularly scheduled services out of Fort Lauderdale, only diverted there as a last resort, and didn't have the necessary services there for the flight in question. The German carrier feels that the tarmac delay was caused by forces beyond its control and that it shouldn't face the fine.