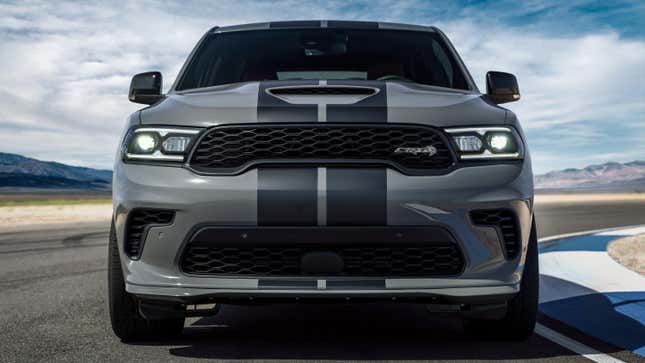 There is a Durango Hellcat for 2023, because Dodge likes selling cars, though some buyers of the 2021 Durango Hellcat aren't happy about it. Seven of them have now sued Stellantis, Dodge's parent company, because they say they wouldn't have paid so much for their 2021 Hellcats (which sold out pretty quickly) if they'd known another was coming, or even never bought them at all.

In case you missed it:

The suit was filed Wednesday in U.S. District Court in Delaware. The Durango Hellcat owners are identified as Stacy Phillips, Lawrence Willis, Eli Negron III, Christian Papana, Jason Van Genderen, Mark Hollingsworth, and Jeffrey G. Heintz, Sr., all of whom bought their Hellcats for up to $114,225.
The heart of their complaint is that Dodge initially insisted that the 2021 Durango Hellcat would be the only Durango Hellcat, before Dodge decided that it wouldn't be, thus devaluing 2021 Durango Hellcats, around 3,000 of which were sold, according to the suit. The plaintiffs accuse Stellantis of unjust enrichment and false advertising, among other things. From their complaint:
In or about July, 2020, Defendants announced that they would be producing and selling for 2021 only, a one year limited production run of the Dodge Durango Hellcat Vehicle. Dodge Chief Executive Officer, Tim Kuniskis stated in or about July 2, 2020 at the launch of the 2021 model line, that the Dodge Hellcat would be a single year run for the 2021 model year and then will be gone. In that widely watched and heavily covered promotional press launch on July 2, 2020, to introduce the Dodge 2021 line of vehicles, he touted various features of the Hellcat Vehicle, including that the Hellcat possessed 710 horsepower, was "the most powerful SUV in the world," can carry more, tow more, and go from zero to sixty in 3.5 seconds. He told consumers that Dodge was only producing and selling a single year run of the Hellcat, which would be MY 2021 Hellcat. Kuniskis represented that "[t]he Hellcat Durango will be a single model year run. When we turn the order books over to the '22 model year, the Durango Hellcat will be gone. So you've only have one shot [to buy one]." Official press materials created by the Company made the same or similar statements.
The Durango Hellcat owners are also asking the court to grant the suit class-action status, to apply to other Durango Hellcat owners. They also want an unspecified amount of compensatory and punitive damages, they want an injunction stopping Dodge from making new Durango Hellcats, and they want their legal fees covered.
All of which seems like a bit much, but this is what happens when you piss off owners of Durango Hellcats.
A Stellantis spokesperson said in a statement that they don't discuss active litigation.
You can read the full civil complaint here: