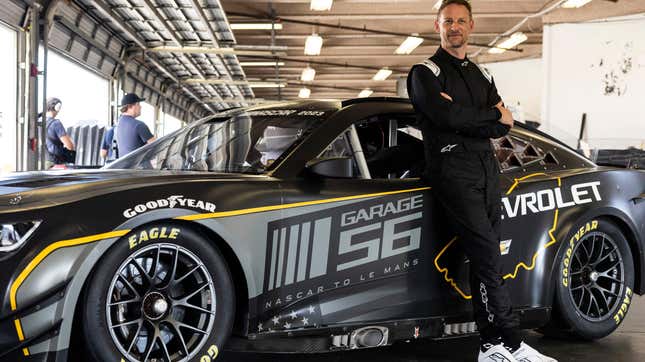 This summer, modern NASCAR is making its debut at the 24 Hours of Le Mans — sort of. A NASCAR-inspired Chevrolet Camaro will hit the Circuit de la Sarthe as part of the Garage 56 program, which is designed more to showcase experimental technology than to compete in any of the race's official classes. The machine will be driven by Jenson Button, Jimmie Johnson, and Mike Rockenfeller — the first of whom made his NASCAR Cup Series debut this past weekend at Circuit of the Americas. I had a chance to chat with Button about the distinctions between the Cup car and its endurance-equipped counterpart.
In case you missed it:
"The Garage 56 car is based on a Cup stock car, so they're theoretically similar but they're also not the same at all. How do they differ?" I asked.
"The seating position is kind of similar, and that's about it," Button responded with a laugh.
"The Garage 56 car is eight seconds per lap quicker," Button explained. "It's got more downforce, paddle shifters, carbon fiber. It's also got traction control if you get a bit out of shape — which you do a lot in the Cup cars."
Button admitted that losing control was one of his biggest fears as he headed into the Cup series race at Circuit of the Americas. His testing laps at the track in the Garage 56 car really didn't help him prepare.
"You'd think this race would help with the Garage 56 program," Button said, "but it's not really useful at all!"
His teammate at Le Mans, Jimmie Johnson, echoed similar sentiments in a press conference earlier in the day, noting that the Garage 56 Camaro is really less of a stock car than it is a sports car that just happens to look a little bit like what you'd find on a NASCAR track.

For Button, his biggest strengths have come in the form of his teammates Johnson and Rockenfeller, along with the advice he's been receiving from sports car driver Jordan Taylor during Garage 56 test sessions.
"Jimmie [Johnson] has a lot of experience in the Cup Series, but road courses are still a challenge for him, because that's not something he did much back in the day," Button said. "He comes to this program from a very different way than I do.
"And Rocky? He has so much experience and so much knowledge when it comes to racing anything that his advice has just been spectacular."
At this era in his life, Button is less concerned with wholehearted motorsport domination than he is with finding new ways to bolster his skillset.
"I'm a racing driver, and I love racing, whatever it is," Button said. "Racing Le Mans is spectacular. It'll be even better to see what we can do with Garage 56."