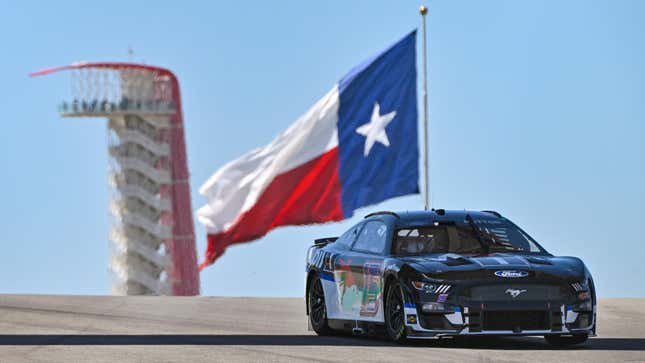 The first time Jenson Button came to race in the United States, the year was 1996, and he was competing in a karting championship. Four years later, he was back at the Indianapolis Motor Speedway with the Formula 1 circuit. He made a home in the States and has now run his first race with NASCAR, perhaps the most iconic series when one thinks of motorsport in America. If anyone is perfectly positioned to analyze the growth of motorsport in America from an outside but still involved position, it's Button.
In case you missed it:
So before he climbed into his stock car and secured its window net to take on the Circuit of the Americas in a Ford, I wanted to know what Button thinks about the way motorsport has grown in the U.S. in recent years. Has it felt as significant and exponential as I've imagined it to be?
"We had some good years [in America], and then we had that very bad year where we couldn't race because of the tires, and the fans went nuts," Button said, referring to the 2005 United States Grand Prix, where Michelin-shod teams were advised against racing after a series of crashes. "And then we didn't come back until we came to [Circuit of the Americas]."
Button does credit Netflix series Drive to Survive as being a significant player in America's racing renaissance because it helps new fans "see behind the scenes of racing." When it's just "cars going around," he said, "how can you relate to the drivers? How can you pick your favorite?"
DTS's strength has been shedding light on a notoriously closed-off sport, and as a result, it has helped newer fans relate to the series on a more personal level. Beyond that, though, it sparked an appetite for other forms of racing. Here in America, series like NASCAR and IndyCar are riding the hype wave — and Button noted that there are plenty of "great personalities" in NASCAR that have benefitted from the kind of behind-the-scenes exposure that DTS has provided.
I asked if this has enabled some of that cross-pollination we've seen in racing lately, where drivers are willing to dip their toes in other forms of motorsport — the way that Button and Kimi Raikkonen were competing in NASCAR, or how Jimmie Johnson lived out his dreams to compete in IndyCar.
"These opportunities have really opened up for us," he said, pointing to the way Trackhouse Racing has developed the Project91 program to encourage international talent to sample the waters here in American stock car racing. Button noted in a previous interview that he had expressed his interest in stock car racing last year and clarified to me that his "opportunity came from Mobil 1," the way the sponsor had helped him in F1, SuperGT, and even in trophy truck racing.
"I feel very lucky to have the opportunity because a lot of great drivers out there don't get it," he said. "It's nice to see the door opening for drivers from different series."