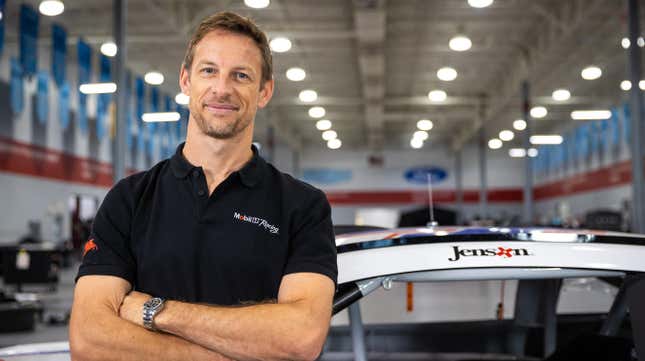 Formula 1 World Champion Jenson Button is about to take on a brand new challenge in his retirement from open-wheel racing. On March 26, he'll be making his NASCAR Cup Series debut at Circuit of the Americas — which is only the first of a three-race deal.
Button will be driving the No. 15 Ford Mustang with a sponsorship from Mobil 1 (a sponsor that was with Button during both his F1 World Championship in 2009 and a significant portion of his wins in the sport). If you're a NASCAR fan, you'll know that the No. 15 car is one of Rick Ware Racing's chartered machines — but with a legend like Button behind the wheel, Stewart-Haas Racing is lending a hand with marketing and promotional support.
After COTA, Button's next two races will take place on the Chicago street circuit (July 2) and the Indianapolis Motor Speedway road course (August 13).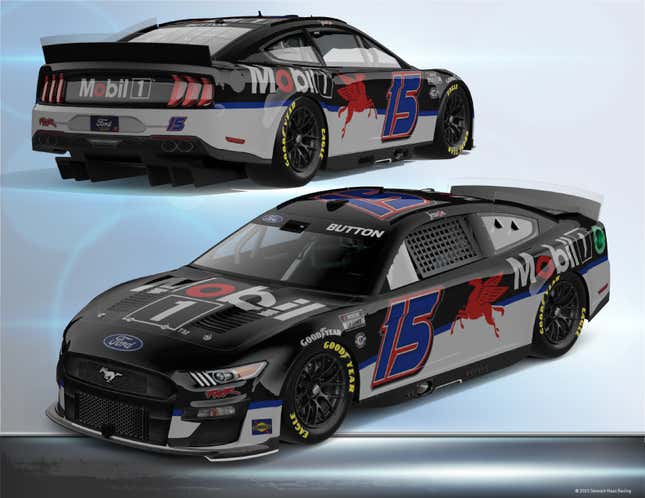 This is, as you can imagine, some pretty crucial prep work for Button, who is one of three drivers (alongside Jimmie Johnson and Mike Rockenfeller) set to pilot the Garage 56 entry at this year's 24 Hours of Le Mans. That Garage 56 entry is a Next Gen NASCAR-esque Chevrolet Camaro ZL1 that has been race-prepped for an endurance event by Hendrick Motorsports. Button has already been testing the Garage 56 project, but this COTA race will be his first opportunity to put a similar car through its paces in a race condition. His next two events will take place after the June 10-11 running of Le Mans.
Button started his F1 career back in 2000, taking his Championship win in 2009 and racking up 15 wins out of 306 starts in the sport. Since leaving open-wheel racing, Button has taken on a variety of new challenges. He popped down to Japan to compete in the Super GT series, where he took a Championship in 2018. He's raced in DTM and British GT. He's tried his hand at endurance racing in the World Endurance Championship. He founded his own electric racing teams in both Extreme E and the Nitro Rallycross Championship, then went on to compete in hose cars for a smattering of events. Trying his hand at American stock car racing just makes sense — and starting at COTA, where he made five F1 starts, is the best way to dive in.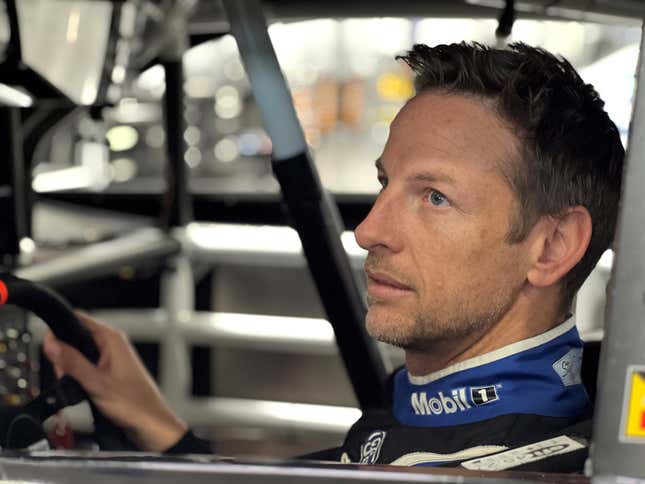 "The most important thing for me is to enjoy it," Button said of the debut in a Rick Ware Racing press release. "I want to feel comfortable in the car knowing that I can get as much out of the car in any situation as other people out on track. The result is the result, and we'll see what happens, but I want to get the confidence to brake as late as I'd like, to carry the speed through the high-speed corners, and to be able to race close – wheel-to-wheel with the pack."
Button won't be the only former F1 Champion hitting the track at COTA that weekend. Kimi Raikkonen will also be starting the race with Trackhouse Racing's Project 91 Chevrolet.