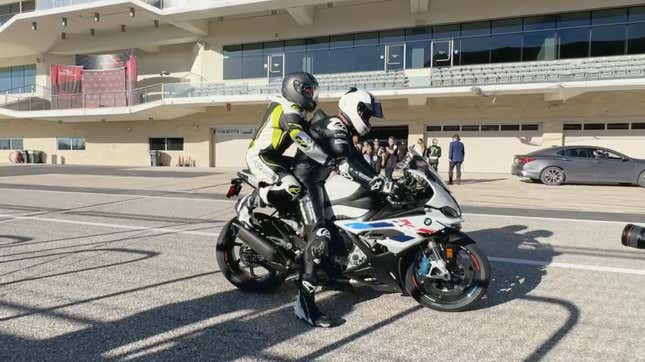 I've never so much as sat on a motorcycle in my entire life. It's been over a decade since I rode a bicycle. So when MotoGP and the Circuit of the Americas asked if I'd be interested in doing "backpack laps," riding on the back of a crotch-rocket while a professional motorcycle racer lapped the ultra-fast track at full speed, I said hell yes. I also told every person I met for three weeks that, shortly, I would experience my favorite race track from a two-wheeled perspective. After all, if you're going to do something, why not dive right in?
Full disclosure: Circuit of the Americas invited Jalopnik to send someone out for backpack laps in anticipation of April's MotoGP race. I drove myself out to the track where I was greeted by the amazing COTA crew, fed a fabulous dinner, and offered the ride of my life.
In case you missed it:
I'm a little bit of a weenie when it comes to driving. I am, after all, a writer, not a racer — but that has never once stopped me from jumping into whatever high-speed endeavor is offered to me. As a result, I've driven plenty of fast cars on track, and had the pleasure of riding in the two-seat Indy car with Helio Castroneves as well as riding shotgun in supercars like the McLaren 720S on track. In all those instances, I never really felt scared.
But then I got to COTA and saw the bike.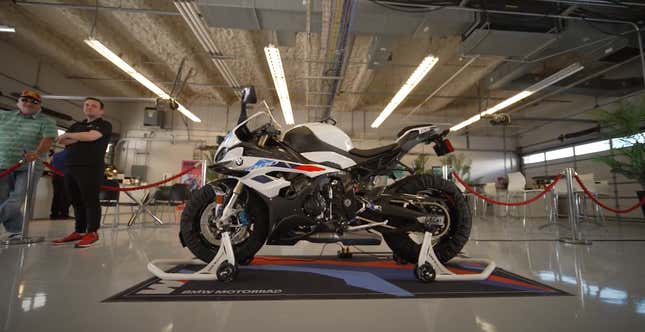 I'd be riding on the back of a 2023 BMW S 1000 RR. I'm a car gal, not a motorcycle gal, so I had no idea what I was getting into until I read about this bike at home. I found out that this motorcycle has more horsepower (205) than the Mazda 2 I drove to COTA, and anyone can go buy one at a dealership. My pilot for this experience, Nate Kern, is a professional racer who has transitioned into being a BMW ambassador and backpack-lap specialist. He described the bike as "an M car on two wheels."
If you've never been on one of these bikes as a high-speed passenger, you probably have no idea what it entails. I know I certainly didn't. I was expecting to cling for dear life to the driver, the way I used to when my brother would send our four-wheeler careening through the woods. I learned almost immediately that this notion was incorrect.
See, you don't want to be tense. When you're clinging, your brain is focused only on doing just that. As a passenger on the back of a high-speed motorcycle, you play a massive role in how the bike performs. Because you sit higher than the driver, your center of gravity is critical to the bike's movement. You have to be pretty damned relaxed, prepared to lean with the driver into every curve. If you're relaxed, you're able to move with the bike, focus on your body position, and anticipate what's coming next. If you're clinging for dear life, you're just full-on scared.
Okay, fine. I prepared myself to take deep breaths and relax. But I could still ensure a good grip on the rider, right?
Also wrong. The backpack bike is not like your typical street bike; it's modified for high-speed riding. Two looped grab-handles were bolted to the fuel filler, right between the handlebars and the driver's seat. I would be holding onto those handles during my ride — and, terrifyingly, letting go in certain places during the ride.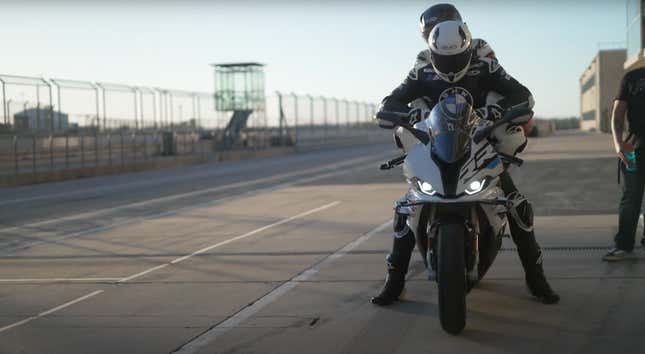 Motorcycle riders don't just turn the handlebars — they lean their entire body to the side in order to complete a turn. If my arms were glued to the grab-handles in front of the driver, Kern wouldn't be able to lean, and neither would I. So when we turned, I learned, I'd only be holding onto the bike with one hand.
Visualize Turn 1 at COTA — a near-hairpin-tight left-hander. Coming into Turn 1, I had to remove my left hand from the grip and rest it on Kern's chest. Then, I had to open up my left knee to allow him to move his body off the bike and lean with him, turning my head to look into the curve — all while maintaining my balance and keeping my single-handed grip on the bike.
If I'm honest, it wasn't that hard to accomplish on any single turn. The rapid-fire nature of COTA's esses or its stadium section, though, required a lot of speedy hand-swapping that, when fully gloved, was absolutely terrifying.
But that would come later. First, I needed to meet my pilot, absorb his safety briefing, and get suited up.
---
"Everybody gets a different ride," Kern told our group of 20 journalists and influencers during the safety briefing. "I can tell how you're doing — how much you remember from this briefing — within the first 20 meters."
I took those words as a challenge. I didn't care if I was scared out of my goddamn mind, I was going to get the best, fastest ride possible — and attaining that was entirely in my hands. As the sixth rider in our group, the briefing would be fresh in my mind. I just needed to use my brain power on the track.
First I had to gear up. I think I was the smallest person there, so my suit, shoes, and gloves would be a challenge. There was a wide selection of gear available, but it mostly catered to a typically male body size. The smallest boots available were a men's seven; I wear a women's seven, which is a size five in men's shoes. Thankfully, I was able to wiggle my way into a well-fitting suit, which was a whole process in and of itself.
The single-piece jumpsuit is made out of thick leather and features dense padding at the knees, shoulders, elbows, and hips to protect your body if you happen to scrape across the pavement at triple-digit speeds. Getting into the damn thing was a two-man process. I had to sit down in a chair and put both my legs into the jumpsuit at the same time, hiking the knee pads up into the proper position before I could even stand up. Once upright, I needed someone to help strap on a back protector for additional safety, which made it extremely difficult to find the arm holes without a buddy. With my arms in and the front of the suit zipped up (again, this was a suit built for a man, so it was tight around the bosom area), I could sit back down and clamp on my boots.
Those jumpsuits are deeply uncomfortable when you're not on a bike. They're designed to fit right while you're riding, so if you stand up, the suit kind of makes you curl forward. I looked like a hunched-over Power Ranger crossed with a penguin as I waddled around in the thing.
The boots were a bit too big, but once I had them planted on the foot pegs, I wouldn't need to move them during my laps.
From there, it was just a matter of waiting, though I blessedly didn't have to wait long. As the first five passengers hit the track, I focused on snapping photos, taking notes, and re-running the safety briefing in my mind — anything to take my focus away from the sheer freakin' speed of the BMW as it shrieked past me on the front stretch. I watched the other riders mount and dismount to remind myself how to do it. I took deep breaths. By the time I was squishing on the helmet and climbing onto the bike, I was as ready as I could be without pondering my time on the mortal coil. My helmet had a two-way radio so I could talk to Kern. When he asked if I was ready, I said yes, and I was.
Then we shot into Turn 1, and reader, I was not ready.
---
Physically, I think I did okay. As we ascended to that first turn, I did all the right things. I held on tightly under acceleration and heavy braking, ready to remove my left hand, open my left knee, lean, and train my gaze on the upcoming right-hand turn. Kern gave me some tips as we rode, and by Turn 3, I was nailing it. Good. Easy. Simple.

The inside of my brain, however, was literally just the screaming cowboy meme on repeat for three laps.
I've been lucky enough to experience plenty of hot laps around COTA in all kinds of vehicles — but nothing prepared me for the sensation of being a passenger on a screaming 1,000-cc bike. In a car, I know that Turn 2 drops into a steep downhill before the rest of the track levels off; on the bike, coming over the crest of Turn 1 felt like taking a leap of faith off the edge of a cliff, hoping someone had set up a net down there to catch me. In a car, the esses jerk you side to side; on the bike, our speed and smoothness was dictated by how quickly I could swap hands on the grips, leaning my body to work with the racing line rather than fighting momentum. In a car, braking for the hairpin will send your gut spinning; on the bike, I honestly don't even know how my body felt, because that was the one time per lap when I could really grip for my life with both hands. In a car, the acceleration of the back stretch is positively thrilling; on the bike, I swear I could feel every single mile per hour buffeting against my helmet, threatening to kick me off the back of the BMW.
Kern coached me through that first lap, letting me know how to improve and praising me when I nailed a turn. As we approached the end of that first lap, I was told we did a wheelie. I don't actually think I was conscious of the fact that Kern busted out a whole new trick with me on the back of the bike; what I experienced was a bump and Kern telling me he trusted me. As we accelerated up the front stretch, he actually had to tell me that he'd done a wheelie.
I know these things happened, but I remember them like the voice of God narrating the most physical, emotional vehicular experience of my life. I thought the two-seater Indy car was visceral in the way it picked up every single bump on Toronto's street circuit. But that was nothing: Coming around the carousel at COTA, Kern coached me into leaning so far to the right that my knee scraped the ground.
It's truly challenging to put this experience into words; I know that no video footage will ever adequately illustrate it. Out on the track, I'm not really sure I fully experienced it. I tend to live life through interpretation. I rarely feel like I'm living in the moment, instead rationalizing every physical experience I have in real-time. When it's hot outside, I don't just feel hot; I'm thinking about the temperature yesterday, the time of day, how the weather will evolve, whether I'm going to get sweaty. Am I wearing the right clothes, do I need to go inside, is it time to mow the lawn, how can I best use this warm day to my advantage? I turn my life into a story before I even really get a chance to feel it. That's a consequence of going through a lot of family turmoil as a kid while also delving into the creative writing world at a young age. Life is a lot easier when you can repackage its uncertainties into a clean narrative, and since writing is my job, I've never felt a need to reprogram that part of my brain.
On the back of that BMW, I had no choice but to take each moment as it came. I pushed my emotions to the side, mostly because I didn't want to dwell on being terrified, and it forced me to be an active participant in the moment. Turn 5 is immediately followed by Turn 6, and I need to be ready. Lap two comes after lap one, and I want to see if we can go faster, because that means this ride is almost over, and if I don't go faster now, I may not ever have a chance again. In the carousel, I have to look ahead, anticipating where this bike will go next — but I also have to make sure I'm leaning far enough to make the current turn, that my knee is splayed out wide enough for Kern to move as he needs.
I couldn't be in my head. Mentally, I had to be fully in one place: On a BMW at the Circuit of the Americas.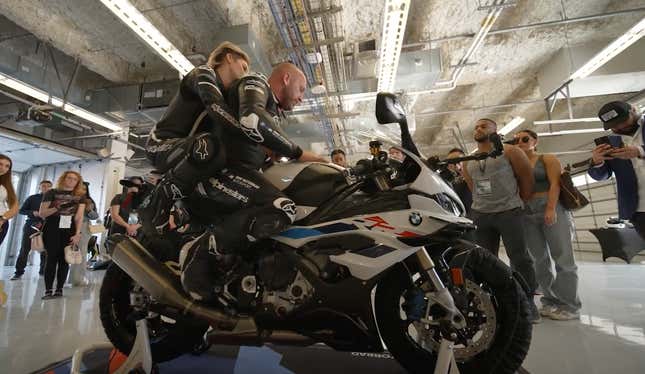 As we slowed to a stop in the pit lane at the conclusion of my ride, all those emotions that I'd pushed to the side came crashing back down all at once. I started to fully realize that I was one slipped grip away from launching off the back of a speeding motorcycle — a sentiment that was not lessened when Kern told me we'd hit 170 mph on the back stretch. I was relieved to have completed something I never believed I could do, and stoked to know I never have to do anything like it again. At the same time, I was crushed by the sadness that this once-in-a-lifetime opportunity was now done and dusted.
It was a lot, an onslaught of emotion not helped by an immediate adrenaline crash that left me full-on quaking like a leaf. I don't really remember stripping off the sweaty racing leathers. I just know I needed to slam a bottle of water, nattering at the very kind catering crew until my jitters worked themselves out of my joints.
My backpack-lap experience gave me a much deeper appreciation for professional motorcycle racing. I've always had immense respect for the riders who put their lives on the line racing at high speeds on these tiny little vehicles, all without the protection that car racers enjoy. But I have never had any point of reference for the physical exertion required of someone like Marc Marquez. Now I do.
Sort of. Kern told us that, with a passenger on the back of his BMW, he performs at about 25 percent of his usual racing intensity, in terms of outright speed as well as the way he maneuvers the bike. If that was only a quarter of what it takes to compete in the big leagues, my respect for those two-wheeled icons has grown exponentially. I only did three laps, and my body ached for two full days after.
It also has me gunning to learn more about motorcycle racing, starting with MotoGP. The 2023 season kicks off on the 26th of this month, but I'm already making plans to return to COTA for the Red Bull Grand Prix of the Americas on April 16. Tickets are still available, so if you're coming, let me know, because I want to learn everything there is about this sport.