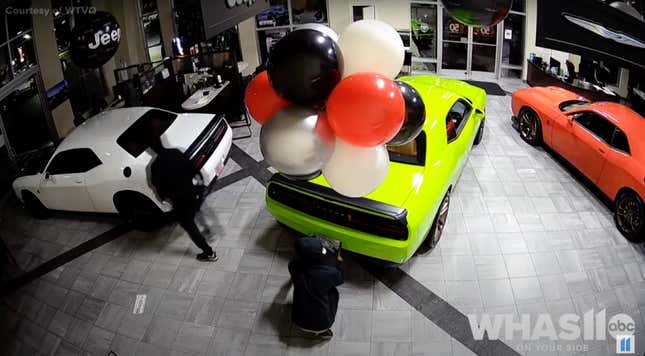 The Dodge Challenger Hellcat theft from last week showed the drawbacks of selling very fast vehicles. Now we have the raw footage from the dealership which shows it was indeed an extremely quick caper.
Honda's Motocompacto Is The Ultra Portable E-Scooter That Can Fit Just About Anywhere
In case you missed it:
Raw footage of the theft of six Dodge Challenger Hellcats from a dealership in Somerset, Kentucky, last Wednesday shows what looks like a pretty professional in-and-out job.
The thieves made off with six brand-new Hellcats—four from the showroom floor and two from the dealer's lot—in just 40 seconds. Don Franklin Chrysler Dodge Jeep dealership manager Adam Bryant told WKYT he believes the fast theft was an inside job:
"They came in through the rear garage door. They had some kind of idea of how our security system worked it looked like," Bryant said.

Bryant believes it took at least seven people 40 seconds to drive off with all six Hellcats, each worth around $95,000.

"And they were gone. Once they tripped the alarm, it takes 60 seconds before it starts alerting. They were gone 20 seconds before the alarm started to go off. The response time of the police was like three minutes. It was really good," Bryant said.
Five of the cars were recovered almost immediately, with one in a neighboring town and several as far away as different states. At least one vehicle was a total loss and two were heavily damaged. Each Hellcat retails for about $95,000.
Hellcats in particular are like catnip to car thieves. Last year, the feds busted a ring responsible for several high-profile thefts from dealerships and manufacturer lots. These guys weren't just busted for car thefts however, the Hellcat-powered vehicles were also used in other crimes, as the powerful cars are able to outrun police, The Drive reports.