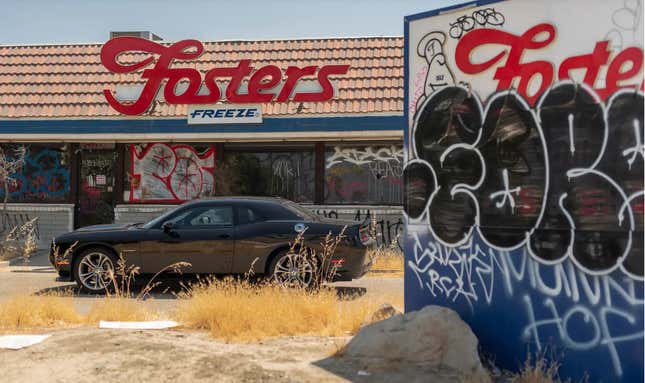 Thieves broke into a car dealership in Kentucky Wednesday night and made off with six brand-new Dodge Challenger Hellcats. They made it out the door in under 60 seconds, which is certainly both the draw, and flaw, of the Hellcat.
In case you missed it:
Don Franklin Chrysler Dodge Jeep in Somerset, Kentucky is out six Challenger Hellcats worth around $600,000. The thieves made off with four from the showroom floor. The dealership made it especially easy for them by leaving the keys inside the vehicles. Two more were taken from the exterior lot using keys found inside the dealership, WKYT reports.
The dealership's manager Adam Bryant seems to think the theft was so quick—they were gone in about 40 seconds — that it could have been an inside job:
"They came in through the rear garage door. They had some kind of idea of how our security system worked it looked like," Bryant said.

Bryant believes it took at least seven people 40 seconds to drive off with all six Hellcats, each worth around $95,000.

"And they were gone. Once they tripped the alarm, it takes 60 seconds before it starts alerting. They were gone 20 seconds before the alarm started to go off. The response time of the police was like three minutes. It was really good," Bryant said.

Five of the six stolen vehicles were later recovered, some in nearby counties, but one of the vehicles made it all the way to Alabama and another to Tennessee. At least one of the vehicles is a total loss. The sixth one is still missing. Bryant thinks the GPS unit was damaged somehow, but they believe it is in Alabama as well.
"We have an idea of where the last one is," Bryant told WKYT.
There's such a thing as doing your job a little too well, Dodge. Sure, the Challenger Hellcat is mighty quick — it's what Dodge customers, criminals and everyone else loves about it.
But it also certainly makes for a very hasty retreat for bad guys. Hellcats have been involved in some high-level crimes. In 2021, thieves hit Orlando's airport parking garages and made off with Hellcats and other Stellantis products. A few pre-teens went straight to the source last year and tried to make off with Hellcats from the Jefferson North Plant in Detroit. And speaking of Detroit, an off-duty police officer was ridding as a passenger in a stolen Hellcat his colleagues attempted to pull over. The driver ran from the traffic stop, crashed into another car and then he and the off-duty cop fled on foot but since the other cops, ya know, knew who he was he was quickly arrested.