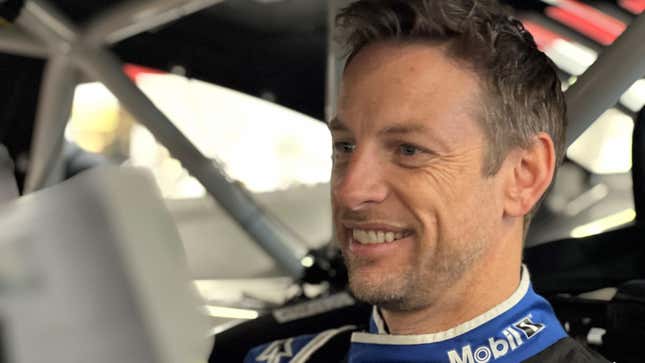 Former Formula 1 Champion Jenson Button is set to tackle his first-ever stock car race later this month at Circuit of the Americas, but his interest in the NASCAR Cup Series isn't new. In fact, he's been harboring that passion for decades — ever since he first saw Days of Thunder.
"Growing up in the UK, we had four channels, and we didn't get much sport outside of European sport," Button explained in a media press conference on Friday morning — which he admitted to conducting from his "gran's living room." Then, he laughed: "It was actually Days of Thunder that brought me to NASCAR."
The 1990 film starring Tom Cruise as a hotshot stock car racer may not be the most accurate depiction of NASCAR racing in the universe, but in this case, it served its purpose. It brought new eyes to the sport and encouraged Button and his father to tune in on Sundays. Stock car racing, though, was never something Button actually thought he'd do.
Watching those races, he said, "stopped me asking the question of, 'Can I race in NASCAR?' It was just so different, and back then, it was mostly ovals. They didn't excite me much because that's an entirely different skillset" than the one he was honing as a road course racer. The 2009 F1 champion, though, enthused about NASCAR's growing slate of road courses, which have attracted talent from around the world and around multiple different racing disciplines.
"A racing car is a racing car; it's very different to what I'm used to, but you come to grips with it over time," Button explained of stock car racing. "What's different is having cars all around you, a spotter in your ear. I'm sure I could go drive on an oval [alone], and I'm sure I'd come to grips with it — but when you add other cars into the equation, with pushing and drafting, it's a whole different story."
Hence why Button is opting for a three-race slate of road courses to ease him into the Cup Series. This month is COTA, a track he's competed on multiple times before. In July, he'll be taking on the Chicago street circuit, explaining that he felt it'd be a great event for him because it's a track that no NASCAR driver has ever experienced. Finally, Button explained that he's taking on the Indianapolis Motor Speedway road course because, even though it's different to the circuit he raced in F1, it does feature some of the same corners. By the time that race occurs in August, though, he should be a formidable expert behind the wheel of his Ford. If all goes well, he's optimistic that he'll be back in NASCAR in 2024.
He's not the only former F1 driver to be taking on the upcoming race at COTA, either. Kimi Raikkonen will also be there, competing in Trackhouse Racing's Project 91 machine. It's a fascinating shift of focus for these two open-wheel racers, and Button was very transparent about how he began to rethink his approach to racing in a series that felt "so far removed" from European drivers.
"I don't want to be negative about F1," Button said, "but you're so focused. Your family doesn't come to races because the teams don't want them around because your focus is so important. [Formula 1] is your whole life. I did it for 17 years, and you just forget about everything else."
NASCAR, Button said, was attractive because it was very much the opposite. Families are encouraged to come to races (and Button said he's bringing his wife and kids to COTA after seeing the way Garage 56 teammate Jimmie Johnson's kids enjoyed playing with the families of other drivers at other races). NASCAR drivers are still working hard, but there's a much more relaxed mentality in the sport that eases some of the immense pressure of competition and allows for decompression outside of the race car.
At the end of the day, though, Button is confident that we'll see more former F1 drivers trying their hand at stock car racing, simply because it's "something different."
"We're not just Formula 1 drivers," he said. "We're racing drivers. We love another challenge."