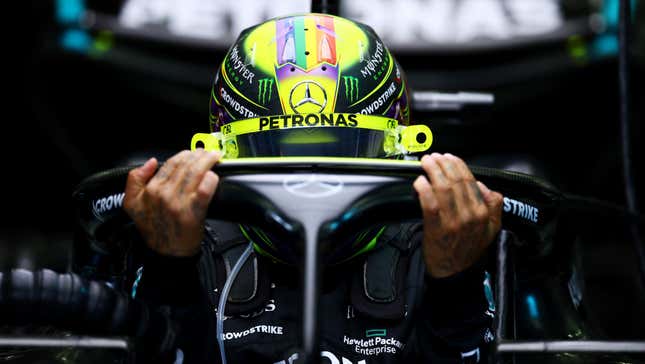 Lewis Hamilton's car was not its best last year, when Hamilton finished in sixth place for the championship, and Mercedes finished third in the Constructor's Championship, both results below their standards. But last year was also the first year of many rules changes, so we all sort of gave Mercedes a mulligan; perhaps Mercedes was still adapting, even as Red Bull didn't seem to have much of a problem.
This year, Mercedes gets less of a pass, and based on the results at the season-opening Bahrain Grand Prix, Mercedes still has a lot of work to do. In a new interview with a BBC podcast, Hamilton, naturally, says that the biggest problem might be that Mercedes didn't listen to one Lewis Hamilton.
As reported by The Guardian:
"Last year, there were things I told them. I said the issues that are with the car," Hamilton told the BBC's Chequered Flag podcast on Wednesday. "I've driven so many cars in my life. I know what a car needs. I know what a car doesn't need.

"I think it's really about accountability," the 38-year-old added. "It's about owning up and saying, 'Yeah, you know what? We didn't listen to you. It's not where it needs to be and we've got to work'".

"We've got to look into the balance through the corners, look at all the weak points and just huddle up as a team. That's what we do," Hamilton added. "We're still [multiple] world champions … just haven't got it right this time. Didn't get it right last year. But that doesn't mean we can't get it right moving forwards."
It's a little early for Hamilton to be throwing his team under the bus like this, given that we're only one race into the Formula 1 calendar. But he is right that it's a bit perplexing how Mercedes has come back so weak this year, even letting Fernando Alonso's Aston Martin finish ahead of both Mercedeses, and Fernando Alonso's Aston Martin uses Mercedes' engine and rear suspension geometry.
Meanwhile, Mercedes Team Principal Toto Wolff says that Mercedes might be getting rid of the whole zero sidepod thing, which may or may not be what Hamilton is mad about. On the bright side, Hamilton did earn championship points last weekend, though fewer than Max Verstappen, Sergio Perez, Alonso, and Carlos Sainz Jr. If this keeps up, this season is looking more and more like a Red Bull cakewalk.