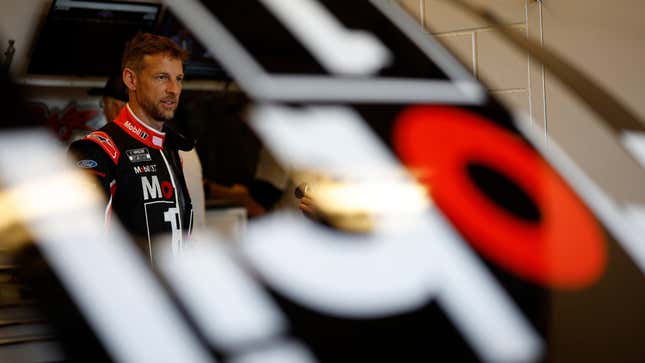 When Jenson Button retired from Formula 1, his racing career was far from over. In fact, in many ways, it was only just beginning. Since his final open-wheel race, Button has taken a championship in Super GT. He's entered Le Mans and will do so again with Garage 56 this summer. He'd formed teams in series like Extreme E and Nitro Rallycross. And this past weekend, Button took on his first ever start in stock car racing with the NASCAR Cup Series. And we here at Jalopnik heard firsthand just what a unique experience it was for the 2009 F1 champion.
This NYC Garage Takes Vanlife To The Next Level | Jalopnik Visits
In case you missed it:
When I had a chance to sit down with Button, he had just completed practice — "thirteen laps!" he kept exclaiming in disbelief — but was yet to qualify or race. Despite plenty of opportunities for uncertainty, Button was absolutely beaming; his sheer joy at having a chance to pilot a stock car was infectious, and it bled into his every word.
"It's been fun, and I've enjoyed today," he said, though he did hedge that the Cup Series schedule was "hectic. There's so much going on — making sure I've got my ear plugs and my shoes. It's been busier than you'd like, but today is done, and we can relax until qualifying tomorrow."
In the press conference prior to my interview, Button had laughingly admitted to several different faux pas throughout the weekend. He'd forgotten how to actually start the Cup car. He had to remember how to drive a sequential gearbox, which he allegedly hadn't done "since 1999." He called the presence of spotters in his headset "quite soothing." And he poked fun at the other competitors, noting how in Cup racing, drivers on a slow lap don't move out of the way when you're on a heater.

"I think I might bring that up in the drivers' meeting," Button told me, his eyes sparkling with amusement. "See if I get booed."
I asked Button for his impressions on driving the Cup car itself, a vehicle far different than the nimble open-wheel and sports cars he's more used to driving.
"The car is so heavy that it feels a bit lazy," he said. "It feels like you're just waiting the whole time [on high-speed straights]. Even some corners around here in F1 are tricky because they're slow and long, but with Cup...
"I'm still struggling to get my turn-in right, too — especially at high speed. I'm turning in a little bit too late and missing the apex."
He pointed out the sheer amount of things on the windshield, the safety features and windshield wipers, in order to note that there's so much in his field of vision that he wasn't used to. "My eyes go right to everything on the windscreen and focus on that, so I struggle to see past it," he said.
"There are just so many little things that you don't think will be an issue but that come as quite a surprise."
Despite that, Button praised the two teams partnering to field his car. Those 13 measly practice laps were all Button got before he was thrown into the fire of qualifying and the chaos of a race that ultimately went into overtime several times as race officials sought a green-flag finish — but he was highly complimentary about the preparation he'd been given in the simulator and in different vehicles practicing pit stops, learning how to change that sequential gearbox, and working with a crew chief and engineers in a new way.
One of the reasons Button opted to make his Cup Series debut at the Circuit of the Americas was the fact that this was the track on the race schedule that he'd competed at multiple times — albeit behind the wheel of a more nimble F1 car. Interestingly, though, Button didn't actually consider the Cup Series to be his most challenging transition as a driver. That distinction instead goes to Super GT.
"When I jumped from F1 to Super GT, I had a really hard time," Button admitted. "Compared to my teammate [Naoki Yamamoto], I was so far off for the first couple of practice sessions — and even the first couple of races.
"At that point, I had a one-year contract, and the team was like, 'Well, I think we should do a two-year.' We ended up winning the championship that year, but it did take a while."
Hopping in the Cup car was, by contrast, a lot easier, if only because Button has had more experience hopping between vehicles and learning how to make the most of them than he did going into Super GT with nothing but F1 experience under his belt.
"The experience I've had over the last few years, with Super GT, a rallycross car, a trophy truck — those all helped me a lot today [getting used to the Cup car]."
His perspective on that may have changed by the end of the race. I tried to find Button in the paddock to get his perspective, but his press officers limited interviews because the man was understandably beat. The heat of the day, the intensity of the competition, and NASCAR's "rubbin' is racin'" style of competition had posed a significant challenge. You can hear Button's thoughts as he gave them to FOX reporter Bob Pockrass:
Button admitted that he enjoyed 60 percent of the race, while the other 40 percent was "a bit silly, the amount we were hitting each other." He also admitted to suffering from heat exhaustion despite wearing a cool suit, requiring him to stop twice to be doused in ice and water.
But he took the checkered flag in 18th position, which is one hell of an impressive debut for a man who hasn't actually really raced in three years. It wasn't easy for Button — but his candid perspective on an entirely new form of racing has been incredibly enlightening.