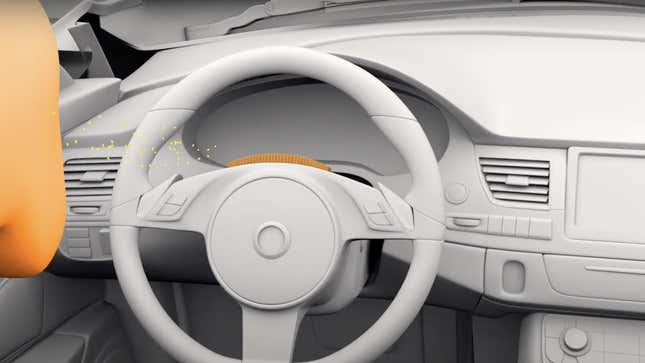 Starting in a few years, all new vehicles sold in the U.S. must have the ability to passively detect when drivers are under the influence of alcohol. If they are drunk, the system has to immobilize the car. If this sounds a bit sudden, it actually isn't. According to Automotive News, the rule was hidden in the depths of President Biden's $1 trillion Infrastructure Investment and Jobs Act from late 2021, but by next year a final rule must be issued on the new regulation.
Porsche's Latest Concept Is The Sexy Electric EV HyperCar Of Our Dreams
In case you missed it:
There's just one real problem: that piece of technology doesn't really exist yet for a commercialized application. Because of this, the automotive industry as a whole is reportedly trying to quickly come up with the technology. So far, only one company has a bit of a leg up on the rest of the automotive landscape.
Asahi Kasei, a Japanese chemical and electronics company, has serendipitously had a Swedish subsidiary working on alcohol detection sensors for other applications for a quarter century, according to AutoNews. The company is now working with automakers, Tier 1 suppliers and government agencies in order to move the technology into commercial feasibility as fast as possible. Mike Franchy, the company's director of North American mobility, said the new law could ask manufacturers to see the alcohol-detection feature on the road as early as 2026.
"To be honest, I think it took everybody by surprise, not only in our company, but at all the OEMs and Tier 1's that this legislation appeared. It's something that's been proposed in the past. But everybody assumed we'd see it required first in Europe, Franchy told Automotive News. It really came about here in the U.S. thanks to years of effort by Mothers Against Drunk Driving to work with the auto industry."
That thought that Europe would be the first to require this technology is what prompted Asahi Kasei to acquire Senseair, the Swedish tech company that has been working on these sorts of systems, five years ago. Now, it reportedly must develop a sensor that can be integrated seamlessly into a vehicle without the need for new cabin hardware.
Here's how it works, according to AutoNews:
Drivers would exhale toward a small sensor that could be embedded in the steering column or side door trim, and await a quick pass/fail reading on the alcohol content of their breath.

It uses an algorithm that detects the amount of ethanol on a driver's breath compared with naturally occurring carbon dioxide. The sensor works through a detector that measures how much infrared light of a specific wavelength is absorbed by the surrounding air. This measurement is then used to calculate the concentration of a specific gas — in this case, ethyl alcohol.