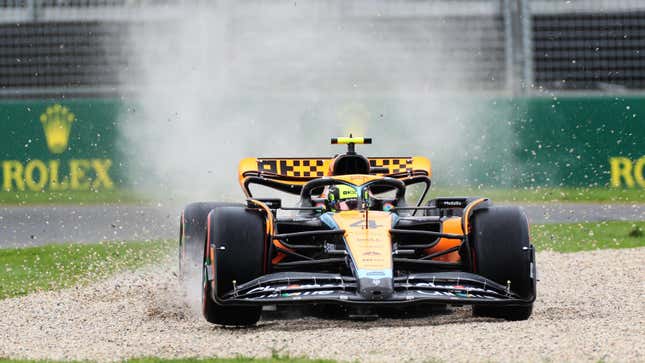 Formula 1 drivers may be some of the best competitors in the world, but they're human just like the rest of us. Case in point: A GPS outage during practice for this weekend's Australian Grand Prix left drivers so disoriented on the track that there were a handful of near misses — which forced a red flag in the first session until the problem was fixed.
Broadway Star Wendell Pierce Is a True Formula 1 Fan
In case you missed it:
A "glitch in the distribution of live tire information" meant teams no longer had data to distribute to their drivers about traffic, Motorsport reports. That meant AlphaTauri's Yuki Tsunoda almost hit a Ferrari, Aston Martin's Lance Stroll got stuck at the end of a long train of slow traffic that had no idea he was coming, and Haas' Nico Hulkenberg had to skid off track to avoid the McLaren of Lando Norris.
Haas driver Kevin Magnussen said that drivers felt "blindfolded" by the sudden lack of data — which makes sense. No one was aware that a problem would strike until drivers were in the throes of a lap, which meant that no one knew they'd need to worry about the traffic around them.
"We know that we're relying on engineers to tell where the traffic is," Magnussen explained, as reported by Motorsport. "I don't think everyone knew that the GPS system was out, so when you don't hear anything, then you expect that there's nothing coming. If we had known that we didn't have a GPS system, you'd be way more careful and just looking in your mirrors the whole time. And nobody was."
Of course, it makes sense when you put it that way. If my husband is in the passenger seat of my car and promises to navigate, I'm going to assume his silence means we're not making any changes in direction. If we're supposed to take an exit, I won't know unless he says something about it, since I'm not the one who's supposed to be paying attention to all that.
Still, though, I will not ever miss an opportunity to have a chuckle at Formula 1 drivers struggling to do extremely basic driving tasks without the full support of the team and without absolute reams of data at their fingertips. It's nice to know that they, like me, simply cannot function as a human being without the presence of readily available GPS data.