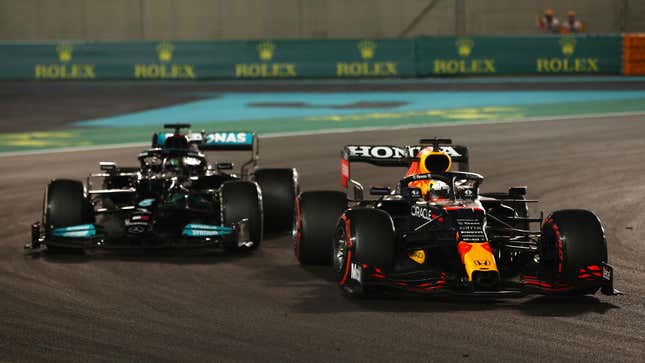 Ask any Formula 1 fan what the most contentious moment in the sport's recent history is and they'll probably all give you the same answer: Abu Dhabi 2021. It was the final race of the 2021 season and saw Red Bull driver Max Verstappen clinch his first Formula 1 world title after race director Michael Masi took the sport's rules into his own hands.

This NYC Garage Takes Vanlife To The Next Level | Jalopnik Visits
In case you missed it:
But if you thought everyone had moved on from the events of that fateful day, you'd be wrong. That's because a new F1 exhibition is dragging them to the fore once again with a souvenir in its gift shop.
For anyone that doesn't quite remember what happened in Abu Dhabi two years ago, here's a quick explainer.
After a late safety car in the race, Masi chose to let just a handful of cars un-lap themselves in the closing stages of the race. This was a rogue move and left Mercedes racer Lewis Hamilton facing off against championship rival Verstappen in a one-lap shootout. Hamilton, who's team had never seen this decision coming, was left leading the race on old tires, while Verstappen had stopped for new rubber, as he was running in second and had nothing to lose.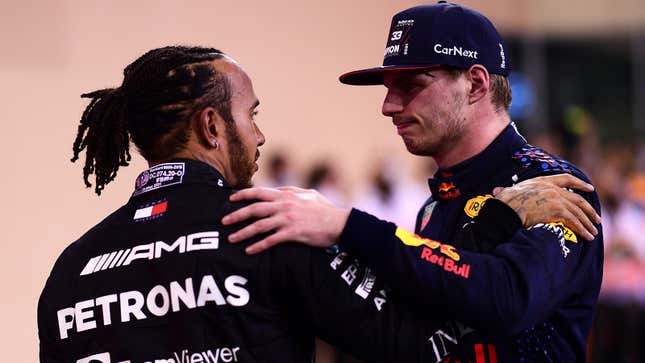 So, with a clear shot at his rival, Verstappen soon stormed past Hamilton and took the lead of the race, which secured his first F1 title.

The events of December 12, 2021, reverberated through F1 fandom, with people picking a side and defending it with all their might. Some thought Hamilton was robbed of his eighth world title, while others believed it was just a stewarding decision that happened to help Verstappen win his first.
There were similar divides in the paddock, where Red Bull thought its man had earned his title fair and square, and Mercedes engineers were left stunned by the move. At the end of the race, Mercedes team principal Toto Wolff got on the radio to speak with Masi and it was then that the world heard the Austrian pleading with the race director over his decision. He was heard on the TV broadcast saying "No Michael, no, this was so not right."
Cearly, something was not right with the decision, as when the new F1 season began in 2022, Masi was out of a job and that probably should have been the end of that. But all that anger is being dragged up once again at a new exhibition dedicated to Formula 1 that's just opened in Barcelona, Spain.
The F1 Exhibition sounds like a fascinating deep-dive into the history of the sport, with areas dedicated to Formula 1's history, its drivers and the design of the cars that compete in it. There's also a "survival" room, which is where you can see the charred remains of Romain Grosjean's Haas racer.
According to Sports Illustrated, the real star of the exhibition is the gift shop, where you can pick up all manner of F1-related tat. One piece that's sparked fury among fans is a mug emblazoned with a quote from team radio.
What quote could have angered fans in such a way, I hear you ask. Well, it is of course "No Michael, No," which was screamed by Wolff in Abu Dhabi. Of course, people are already up in arms about the merch, with one Twitter user saying that Formula 1 is "rubbing their bare-faced corruption in our faces."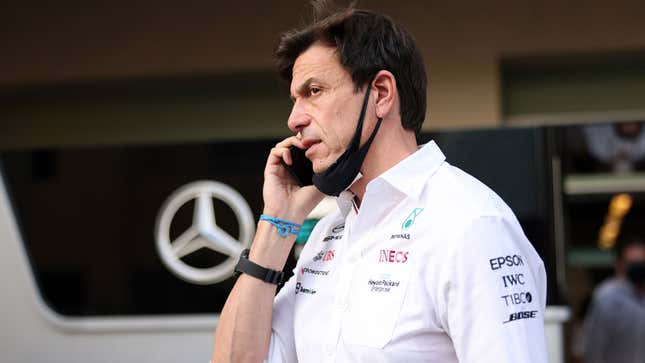 Would you agree with those sentiments, or is it just a case of the sport trying to capitalize one one of the most iconic radio moments in recent history?
Whatever you believe, we can all agree that the mug is pretty naff. The transfer of the radio graphic and Wolff's quote don't even match up with the color of the rest of the mug. Heck, I'm pretty sure even I could design a better mug featuring this quite in a matter of minutes.