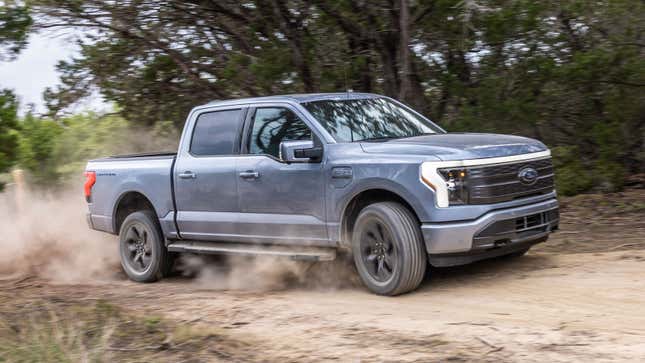 The woes continue for the all-electric Ford F-150 Lighting after it was hit with battery issues on the production line earlier this year. After pausing assembly of the pickup truck to investigate the issue, Ford has now announced that it will recall 18 electric trucks that are facing the same problem.

The Ford Explorer Goes All-Electric, But Not For America
In case you missed it:
Last month, Ford announced a stop-build and stop-ship order for the F-150 Lightning after running into battery issues on the production line. At the time, the Blue Oval said one vehicle caught fire due to the issue during pre-delivery quality inspections. As such, production at the Rouge Electric Vehicle Center was paused while it investigated the problem.
Despite the stop-ship order being in place, Ford has now uncovered 18 F-150 Lightning trucks that made it out to dealers with the same battery woes. As such, it has announced a recall of the affected trucks. In a statement shared with Jalopnik, Emma Bergg Director of Electric Vehicle and BlueOval City Communications, said:
"Ford is recalling 18 F-150 Lightnings due to a battery cell manufacturing defect, which occurred over a four-week period starting at the end of last year. We recently established that 18 vehicles containing cells from that four-week period had made it to dealers and customers.

"On Feb. 4, during a standard quality check, one vehicle displayed a battery issue and caught fire. The root cause identified was related to battery cell production at the SK On plant in Georgia."
Despite 18 vehicles making it out of the factory in Michigan, Ford says it is "not aware of any reports of accident or injury related to this recall."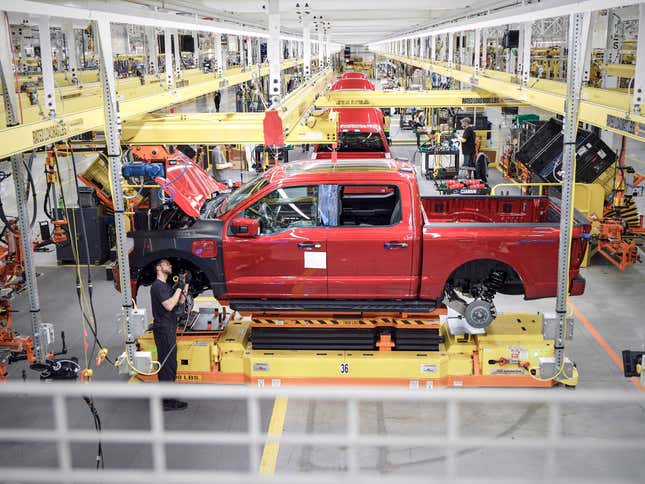 After the initial stop-build order was issued, Ford said it worked with battery supplier SK On to confirm the "root causes" of the problems and "implemented quality actions" to fix the issue. As such, it announced that production of the F-150 Lightning would restart on March 13th.
This latest development will not disrupt that previously-announced timeline, and Bergg added that "production is on track to resume Monday with clean stock of battery packs."
The issues faced by the F-150 Lightning are just the latest in a long line of problems that have hit Ford's electric vehicle rollout. The brand's 2022 F-150 Lightning Super Crew currently has nine recalls in place, according to the National Highway Traffic Safety Administration. Meanwhile, the all-electric Ford Mustang Mach-E faced issues of its own, including a roof that could detach without warning.
If you are worried that your car might be affected by a recall, there are a few easy ways to check if it's the case. First up, the NHTSA has a super handy app that you can use to see if your vehicle is impacted by a recall, or you can head to the regulator's website and plug your VIN into its recall search tool.