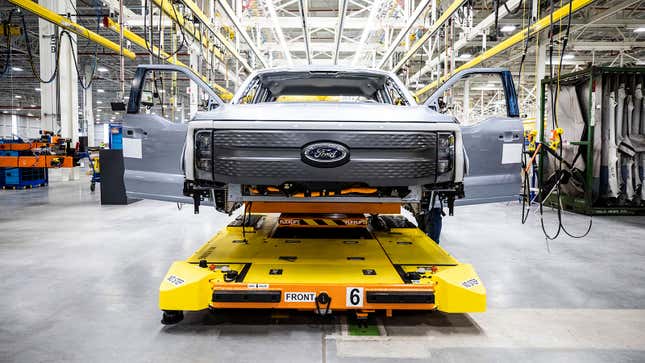 The rollout of Ford's latest raft of electric vehicles has been far from trouble-free. Soon after launch, its Mustang Mach-E was hit with recalls due to battery circuit issues, defective subframe bolts, and even a roof that could fall off. And its F-150 Lightning has been no different, with a stop-build order being issued for the electric pickup truck last month after Ford uncovered a potential battery issue.

In case you missed it:
Now, it sounds like the Blue Oval is getting back on top of its production woes. After initially announcing the stop-build and stop-ship order for the F-150 Lightning back in February, Ford today shared that it expects to restart production of the EV on March 13th – a month after the order was first given.
In a statement shared with Jalopnik, Emma Bergg Director of Electric Vehicle and BlueOval City Communications, said:
"We will restart production at the Rouge Electric Vehicle Center (REVC) on March 13, allowing time for SK On's battery cells to be built into battery arrays and packs and be delivered to the Lightning production line.

"In the weeks ahead, we will continue to apply our learnings and work with SK On's team to ensure we continue delivering high-quality battery packs – down to the battery cells. As REVC ramps up production, we will continue holding already-produced vehicles while we work through engineering and parts updates."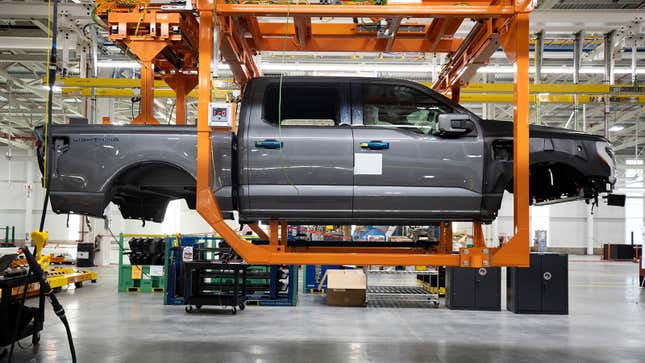 The issue was first uncovered during a "standard Lightning pre-delivery quality inspection," according to Bergg, and Ford said it quickly identified the cause. Ford initially said it planned to suspend production of the F-150 Lightning until "at least" February 26th while it concluded its investigation of the issue.
According to Ford, there have so far been no issues of trucks already out in the field exhibiting the same problem it uncovered in its quality inspections.
The suspected battery issue is just the second such problem to hit the F-150 Lightning since its launch last year. In June 2022, Ford announced a recall of almost 3,000 electric pickups due to a tire pressure sensor issue.
Across 2022, Ford reported shipping 15,617 F-150 Lightning trucks to customers across the U.S.